Tran Tuan Minh and Tran Minh Thang, brothers born into a disadvantaged family, have won an astounding 58 medals in various international chess competitions at the age of 10 and 7.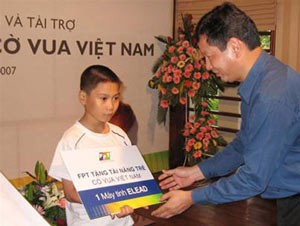 Minh receives a gift from FPT Company.

The miracle began one afternoon when their mother, Mrs. Xuan, saw her three-year-old son Tuan Minh absorbed in a Chinese chess game against his eldest sister Thao, who is also a member of the Chinese Chess Club at her school.

Mrs. Xuan decided to introduce her two children to the Ha Noi Department of Sports and Gymnastics to learn Chinese Chess. However, after a while, Minh switched his interest to chess and became a member of the Department's chess team at the age of 6. In 2007, Thang, their 7-year-old brother also joined the team.

Since then, Mrs. Xuan has been helping all three of her children fulfill their passion for chess. The family has developed a routine; after school, all three children ride two old bicycles 15 km to attend their chess class where their mother waits for them outside. Sometimes, they might not make it home until after 11 pm.

According to Coach Dang Vu Dung, Head of the Chess Department, Minh and Thang are very bright and obedient. The biggest difficulty they face right now is that their family is poor and struggles to fund the children's talents. However, they were lucky enough to have their talents discovered at such a young age and remain the brightest stars in the national chess team.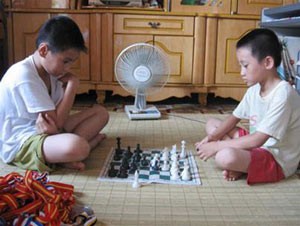 The two brothers play chess together.
Minh and Thang's family is very poor and unfortunately. Mrs. Xuan lost her job after having another baby. She now stays at home and shares the burdens of family-life with her husband, the father of her children, who works as a construction worker and continuously travels from north to south barely able to earn enough money to raise the family of six.

In the house, only 36 square meters in size, it is difficult to believe that the two skinny boys that sleep on the dusty floor are stars of the national chess team. Before Minh and Thang joined the chess team, the whole family lived on only VND 300,000/month (approximately US$20). They survived on a diet of peanuts, salt and rice, leaving the boys skinny and weak. With their father now often working away, the family situation has worsened and their mother must deal with every daily problem whilst at the same time keeping her children's dreams alive.

On the day that Minh and Thang flew with 92 members of the Vietnamese chess team to join a regional competition, Minh said to his mother, "I will try to win every single game because we have run out of money, haven't we, Mom?" At this, Mrs. Xuan was at a loss for words, knowing her little son could have such a mature thought.

Their efforts paid off, in this year's competition in the Southeast Asian Region's, Viet Nam won first place with 75 gold medals, 8 of which belonged to the two brothers.

According to Mr. Vasyliev Mikhailo, a professional chess master who is currently coaching the two boys, Minh and Thang are great talents. If led in the right direction, they will soon reach the international level and are sure to become two of the strongest competitors in the world's Chess Masters.

Mrs. Xuan is proud of the dedication, efforts and achievements made by each of her children Minh, Thang and Thao.