A competition for the youth on following Ho Chi Minh's teachings in the city has seen several creative programs to help disadvantaged sections of the society.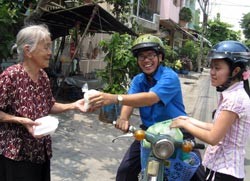 Communist Youth Union members offer a "meal of love" to an elderly woman in district 8, HCM City. (Photo: SGGP)
Titled "Youth Follow Uncle Ho's Instructions", the contest was launched by the Ho Chi Minh Communist Youth Union in Ho Chi Minh City.
Many organizations and individuals across the city have responded with practical and effective programs, organizers say.
There have been 123 activities, most of them charitable, undertaken so far.
The Communist Youth Union Committee of Ward 8, District 11, participated in the contest with "Meals of Love", a project to help lonely and elderly citizens. Union members themselves prepared meals and distributed them among needy senior citizens.
They have enlisted the help of nuns from the Lam Quang pagoda to cook vegetarian meals, which have been provided everyday to poor and lonely elderly people. They have also coordinated with the local Red Cross chapter to provide the elderly with medical check-ups and medicines.
Nguyen Thanh Khanh, an employee of the city's Electricity Company, made a "Charity Box for Disabled Children" and placed it in his company's reception area to raise funds.
Similarly, the city's Cultural Center has launched the "Lighting up the Faith" movement through which it sells members' paintings and uses the proceeds to help poor children.
Nguyen Hoai Phuong, a Communist Youth Union member of Thanh Nien TV, has created a unique VCD named "Study and Follow Uncle Ho's Instructions". The VCD is a collection of stories, material and photos relating to the life and work of President Ho Chi Minh.
Phuong hopes his VCD will be broadcast to young people in general and Communist Youth Union members in particular to spread the late leader's messages.
At many schools in the city, many other activities, such as "Following Uncle Ho's Footsteps" and "Act under Uncle Ho's Instructions" have attracted active responses from students.