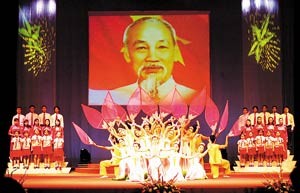 President Ho Chi Minh's 116th Birthday Anniversary is celebrated in Ha Noi on May 18, 2006
For the Vietnamese community in Chiang Mai City, northern Thailand, Uncle Ho's birthday, May 19, is the annual gathering of the community.
"Wherever we are, we are still Uncle Ho's descendants…"
In the center of Chiang Mai City stands a mighty pagoda, Xuooi Doc Pagoda, where the overseas Vietnamese usually come to burn incense in commemoration of Uncle Ho.
Mr. Tran Van Nga, an overseas Vietnamese who has lived in Chiang Mai for nearly 60 years, said that the Vietnamese community in Chiang Mai mostly came here in the late 1940s – 1950s via Laos to avoid the war when French troops returned to Viet Nam. Some of them were lucky enough to have met Uncle Ho when they were in Viet Nam.
The overseas Vietnamese in Chiang Mai often tell stories about Uncle Ho's activities in Thailand during 1928-1930. With a name as Thau Chin, he would remind overseas Vietnamese to be proud of the nation's magnanimous tradition, to love and help each other and to remember homeland.
In the war time and in the time when the diplomatic relations had not yet been established between Viet Nam and Thailand, the overseas Vietnamese community in Chiang Mai had quietly kept in touch and helped each other in secret, said Mr. Nga.
Every family here has had a picture of Uncle Ho in the house. In the war time, when they got homesick, they looked at Uncle Ho's portrait.
Mr. Nguyen Van Thanh, who had attended the Uncle Ho's requiem, recalled the day when hearing the news of his death, all Vietnamese people in Chiang Mai were dumbstruck. Many people came home to commemorate him by burning incense. Some wore mourning band on their shirts for him.
Mr. Thanh added "We thought: Uncle Ho sacrificed all his life for the fatherland, the nation. Although we are living far away from the country, we have to hold a requiem for him."
Although the Vietnamese community knew they would face big difficulties with the local authorities, they convinced the head monk of Xuooi Doc pagoda to perform the Uncle Ho's requiem together with the Vietnamese people.
Thousands of Vietnamese people from Chiang Mai and neighboring provinces attended the requiem. This event caused quite a stir in the Vietnamese community in Thailand at that time.
Uncle Ho in the overseas Vietnamese youth's hearts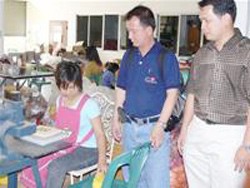 Mr. Thanaporn (first R), an overseas Vietnamese in Chiang Mai City, at his souvenir factory.
There are currently about 2,000 overseas Vietnamese and Vietnamese Thai people in Chiang Mai. Not only old people like Mr. Nga and Mr. Thanh know and like to tell stories about Uncle Ho, but people of the second generation and Vietnamese students in Chiang Mai, who cannot speak Vietnamese well, also know very well stories about Uncle Ho's life.
"I was born and grew up in Chiang Mai. Through my parents' stories, books and movies, I can imagine Uncle Ho. Young Vietnamese people in Thailand like me have high respect for Uncle Ho," said Thanaporn Soonthornsawat, a Vietnamese of the second generation in Chiang Mai, Director of Siam Me-D Company.
Like her father, Thanaporn's 7-year-old daughter does not speak Vietnamese well, but she can sing rather well a Vietnamese popular song for kids, praising President Ho.
Related Article:
Viet Nam Celebrates President Ho Chi Minh's Birth Anniversary
Embroidered Picture - Another Story of Uncle Ho
Tracking Uncle Ho's Steps in the Center of Paris