An art exhibition by renowned US artist Mark Cooper, in collaboration with his Vietnamese partners, is running at the Viet Nam Fine Arts Museum in Ha Noi.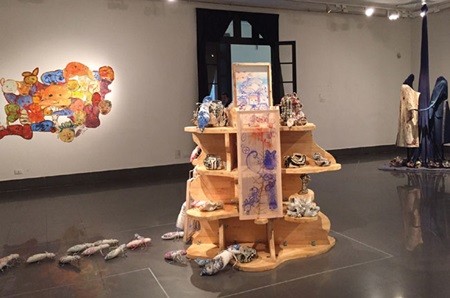 Themes of chaos: Installation works at Yu Yu Vietnam Blue exhibition by American artist Mark Cooper and seven Vietnamese artists. — VNS Photo Le Huong
Entitled Yu Yu Viet Nam Blue, the exhibition displays the work created during the co-operation between Cooper and Vietnamese artists while working together for more than six months starting in early 2015.
Cooper said the idea of the project was to bring together the voices and ideas of the artists.
"The collage installation is where all parts talk to each other, and when the viewer and research prove that this engages with the viewers' minds and that they understand the work differently than a lonely painting that has a story with a beginning, middle and end," he said.
In June 2015, Cooper had the first meeting with the artists who would participate in the programme. They are from various disciplines of creation, including painting, sculpture, installation, fashion design, graphic design and ceramics.
The programme was joined by art curator Nguyen Anh Tuan and David Thomas, director of Indochina Arts Partnership.
"My concepts are based on the keyword, 'Viet Nam Blue'," said the 65-year-old artist.
"It refers to the subtle, beautiful colour of Vietnamese ceramics, which distinguishes it from the rest of the world.
"Vietnamese traditional handicraft and materials are amazing. These creations, which seem to be old in modern life, always attract people because they embrace the local culture and history.
"Yu Yu is a made up word that generally sounds playful and, at the same time, for me, refers to landscapes, mountains, rocks used as meditation triggers, things that are open, being accepting and transparent," Cooper said.
One of the artists, Tran Thi Thu, created a work entitled Justine, which is made from steel wire, ceramic, fabric and acrylic.
"Justine of undying love might turn tears and violence into a corona of flowers," she said.
Meanwhile, Chu Quynh displays Dyeing, an installation created from paper, bamboo, iron wire, cotton and glue.
"Moving out of order, ants will easily create a chaotic society. But out of order also means being able to become a copy of different chaos. The chaos will silently occur under a cover that seem to be organised and stable."
Cooper is an installation painter and a sculptor. His works have often been made from composite materials (FRP – fiberglass reinforced plastic), do (poohnah) paper, paints, prints, and photos with various textures from different countries and cultures throughout the world. Many of them are a combination of numerous techniques and materials.
He is also known for his community-oriented works, featured by an interaction with children, students, patients and anyone who wants to join his works. Such masterpieces were exhibited in famous locations in the US, such as Harvard University (2015), the Museum of Fine Arts Boston (2013) and the Institute of Contemporary Art in Boston (2013).
As part of the activities to celebrate the 20th anniversary of Viet Nam-US diplomatic ties, the event will last until January 9 at the Viet Nam Fine Arts Museum, 66 Nguyen Thai Hoc Street, Ha Noi.
Additionally, an art tour will be organised on January 7 in which the artists and curator will explain their works and the process of creating the works.