He was a spy like no other, respected by both sides, enemy and friend alike. His story, told six years ago in a book by Larry Berman, an American historian, surprised and even shocked the US reading public.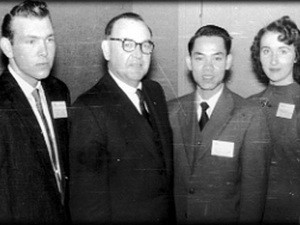 Pham Xuan An in the US. Photo courtesy of 'Perfect Spy – The Incredible Double Life of Pham Xuan An, Time Magazine Reporter & Vietnamese Communist Agent'
And now, the second edition of the book, as well as an upcoming film, will offer even more stunning details about the complex life of the legendary Vietnamese spy Pham Xuan An.
Six years after the publication of his first book, 'Perfect Spy – The Incredible Double Life of Pham Xuan An, Time Magazine Reporter & Vietnamese Communist Agent', Berman was back in Vietnam to introduce an updated version revealing heretofore unknown information about the extraordinary life of the man known as X6.
Berman, speaking at a press conference in HCM City on September 4, said he had promised An that he would not reveal his secrets until after his death.
The book about An, who was also known as Hai Trung, has been published in Vietnamese, and will be available in English in the US later this year.
Speaking at the Continental Hotel in downtown HCM City , where An frequented as a journalist during the American war, Berman recalled that the first edition of his book ignited a firestorm among many older Vietnamese who live in California . But the younger generations admire him, he added.
At the hotel, Berman was surrounded by surviving members of the former intelligence network that included Nguyen Van Tau who was known as Tu Cang, and Nguyen Thi Nhung, whose alias was Tam Thao.
The book, published by Tri Viet Book Company, reveals details about "the master of human intelligence" who carried out his missions with a relatively simple network of spies.
"An's life, like his name, is much more than about being a spy," Berman said, adding that An had always hoped that Vietnam would have good relations with the US . Now his dream has been realised, he said.
Since his death in 2006, An has been the subject of commentary, debate, conjecture and writing, with several documentaries shot about his life. But there is still a lot to tell, according to Berman.
Born in 1927, An began to take part in revolutionary activities in the early 1950s, and was inducted into the Communist Party of Vietnam in 1953 and then admitted into espionage activities.
In order to create a better cover to penetrate deeper into the government and military of the former Saigon administration, he was sent to the US to study journalism.
Later he returned to Vietnam and worked for Reuters, Time magazine and the New York Herald Tribune.
With his erudite knowledge, unique diplomatic and communication talents, he spoke with US senior generals, journalists and US politicians and learned confidential information that was strategic for North Vietnam in its confrontation against the US and the former Saigon administration. He did it all without leaving a trace.
Berman said he had plans to continue to write about An, calling the spy a great "conversationalist ... funny, friendly and honest".
Also speaking at the press conference, Nguyen Van Phuoc, director of Tri Viet Book Company, said that he has received the copyright from Berman to produce a 120-minute feature film about An.-VNA