For the last six years the Putney Student Travel Organization has been organizing a volunteer group of American students to live and work in poor communes of Vietnam and help in all aspects of community living in a Vietnamese village.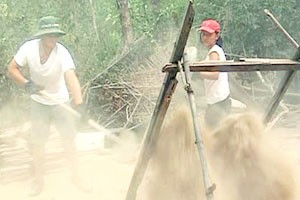 Ari Freedman (L) and his friend sieve sand to build houses for poor local residents
Last month, 14 students interacted with villagers in Tinh Hoa Commune of Son Tinh District in the central coastal province of Quang Ngai, immersing themselves in the lives of local villagers and actively participating in community service programs. 
 
The students worked on many hands-on constructive programs for the benefit of villagers. For example, teaching English to poor local students, playing with community children and building 18 houses for the very poor and impoverished families.
Although none of the students were skilled workers, they still did everything themselves from sieving sand, loading bricks, mixing building material and making the actual house construction, with great enthusiasm and cheer.
   
Zoey Perse, a student from the group said she wanted to give the poor people in Vietnam not only financial aid but also support and encouragement in their everyday lives.
Setting aside hardships and exhaustion, she believes she has done something meaningful for the people whose needs she feels are greater than hers.
23 year-old Ari Freedman, who has volunteered three-time earlier, said this trip offered him a chance to help the local people of Tinh Hoa Commune, as well as study the Vietnamese language and culture, and know more about the postwar social and economic developments in the country.
Katie Berk, who has come to Vietnam for the first time showed great excitement after a few days of stay with the people of Tinh Hoa Commune. During this trip, she taught English and also practiced her Vietnamese.
Berk says, she felt a compassion for the villagers and expressed her desire to visit Vietnam once again, next year.
The American students stay in Vietnam was short but very meaningful. This voluntary program not only reinforced friendship between Vietnam and America but also sent a positive image of a dynamic, vibrant, friendly and forward moving Vietnam to the American people.