A veteran and former security officer for President Ho Chi Minh living in the northern province of Thanh Hoa has a large and invaluable collection of documents and photos of the late leader.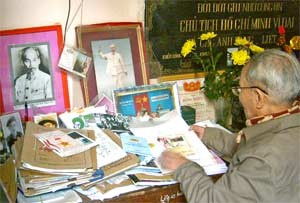 Nguyen Dinh Son beside his sacred collection

Nguyen Dinh Son, now 76, answered the call of his nation and joined the resistance war in 1945 when only 13. Five years later, he was honored with a Victory Medal, Second Class.

Thanks to his accomplishments, he was then assigned to the security detail covering Uncle Ho and other top officials.

During his tenure, he was deeply impressed by the president's words of encouragement.

After the death of his wife in 1964, Mr. Son was transferred to the Thanh Hoa Police and had more time to take care of his children. He was badly injured during a trip to the Lao border and retired in 1982 at the age of 50.

For his outstanding contributions to the Party and people, he was awarded three Resistance War Medals, two Victory Medals, four Uncle Ho insignias and other honors.

Genuine devotion

Leaving a quiet life after retirement, Son developed an unusual hobby -- he began to collect materials relating to Uncle Ho. After 20 years of scouring for them and collecting, his house has gradually turned into an exhibit on the country's greatest leader.

In his quest, Son and his faithful companion, an old bicycle, may have experienced many ups and downs, but never once has he thought about giving up his sacred mission.

Among his most treasured items are four video tapes given to him by a Vietnamese living in France and documents about Uncle Ho's visit to Thanh Hoa.

A department named "President Ho Chi Minh and Thanh Hoa Province People's Armed Forces" was established with Son as its chief. Its task was to gather historical materials on the province's connection with President Ho Chi Minh.

The department's contributions have been recognized by the Marx – Lenin Institute, the Ho Chi Minh Museum, General Vo Nguyen Giap, and Vu Ky, Uncle Ho's private secretary.

The last word on Son belongs to renowned historian Duong Trung Quoc who once described him as an unusual person in this time. A person with such commitment to his work and passion deserved everyone's respect and appreciation, Mr. Quoc eulogized.