Invalided out from military service in 1983, Tran Van Kiet (Sau Kiet), with an artificial leg, overcame poverty and neighbors have cherished him for his kindness.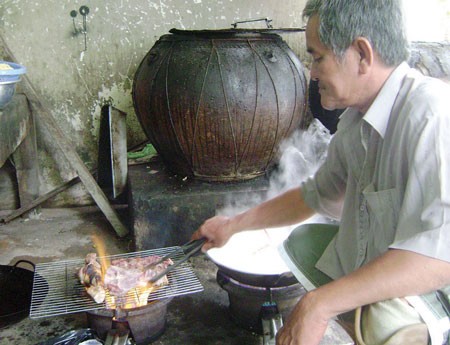 Veteran Tran Viet Kiet overcame difficulties to improve his life, as well as help other people and their difficulties. (Photo: SGGP)
In 1993, Kiet borrowed money from the Hunger Eradication and Poverty Alleviation Fund to open a small food shop. However, in the first two years his shop lost money due to the difficult economic situation. He had to borrow money from his friends to pay his debts.
In 1995, he decided to borrow more money to open a catering service for family parties. He mobilized all his family to cook in order to reduce overheads. Customers gradually came to appreciate his culinary skills.
Kiet said he always listens to customers' opinions to improve his skills. He is always careful to choose quality produce and ensure food hygiene and safety.
Kiet cleared his debt within a short period and has seen his income rise to nearly VND10 million each month.
As such, he has declined welfare payments to which he is entitled.
When his family was stable, he joined social activities in the ward and district where he lives.
He grants an annual scholarship to poor students in the ward and helps an elderly woman who lives by herself at Phap Quang Pagoda, District 8.
On Tet, he visits and gives presents to poor households and has created jobs for 30 workers in his ward.
Kiet feels happy to help other people and share their difficulties, he said.