For five years, charity rice eatery of Pham Van Dien or veteran Tam Dien has well-known to residents in Hiep Phuoc Commune in Nha Be District of Ho Chi Minh City.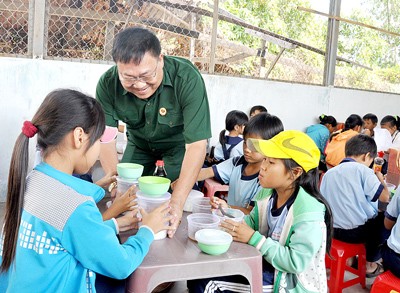 Veteran Tam Dien serves rice to poor students (Photo: SGGP)
Tam Dien said years ago his heart was broken when he saw poor students buying meager lunch with just VND 2,000 (US$0.0948) from a rice eatery in front of People's Committee headquarter.

Veteran Tam Dien was haunted by the question of how to help these students and he then came up with the idea of opening a charity eatery to give free lunch to needy students.

He discussed this idea with Hiep Phuoc leaders and veterans in the veteran association. Commune administrators and veterans have also wholeheartedly backed him up on this effort.
Finally, he and his friends chose local cultural house to open the charity rice eatery.

Benefactors and local residents joined hands to cook meals for disadvantaged students. Pham Thi Dau, a resident in Hiep Phuoc, said I volunteered to work for Mr Tam rice eatery because I love also poor students.

Veteran Tam Dien said that the eatery has not only created jobs for local residents but also offered free meals to poor students.