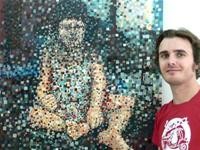 Daniel at his first exhibition in HCMC
Daniel Joel Hume, who is from Scotland, arrived in Viet Nam three years ago. On his way from HCMC to Ha Noi, Daniel met a girl who he had worked with in Scotland and they fell in love with each other. They then decided to stay in Viet Nam and both became English teachers.
Last summer, Daniel began to teaching art at a secondary school in District 7 of HCMC. From Daniel's experiences from his trips around Viet Nam over the last three years, Daniel said that Vietnamese architecture, the colors and the shapes from the country's small roads made him more excited about creative art. That is the reason why his first oil-painting exhibition entitled "Strikes and Gutters" opened at Himiko Visual Café, located at 15B Phan Dang Luu, Binh Thanh District on June 26.
Daniel said that the preparation for his first exhibition took 2 and half years. "I have begun to study oil-painting further while I have been in Viet Nam. I have so many memories and feelings about Viet Nam that I wanted to do something here before leaving to go back to my country", Daniel said.
"I want to be the harmony in the noisy city. HCMC is getting more beautiful and stronger everyday. In addition to cars, motorbikes, and bicycles increasing the congestion of the roads, everything seems to be bigger and brighter than before…and I like it very much in HCMC," Daniel added.
Daniel will leave Viet Nam for Australia (his fiancée's country) in early July. "I will miss Sai Gon at sunset, when the walls turn into light yellow and the sunshine dances on the streams of people. Viet Nam has become a big part of my heart/soul". Daniel expressed.
Daniel Joel Hume was born in 1976. He graduated from the Design Faculty of Dundee University in Scotland in 1999 and is working for Art International in HCMC.