With the national flag and a petition, Nguyen Tuan Linh, 29, a Bien Hoa Communist Youth Union official, February 3 started his trans-Vietnam walk for victims of Agent Orange from Bien Hoa Martyr's Cemetery.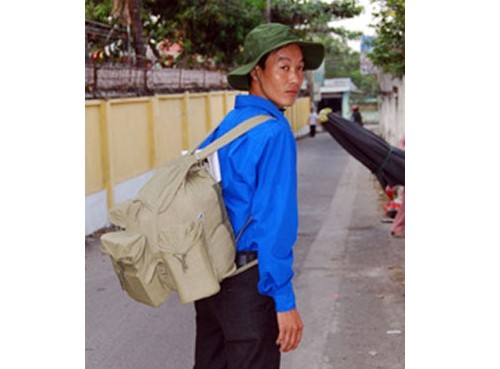 Nguyen Tuan Linh
He aims to collect signatures of Vietnamese citizens to send to the International Court of Justice to sue 37 US chemical firms which produced the dioxin Agent Orange (AO) used in the Vietnam War.
Linh has witnessed the mental and physical pains of thousands of Vietnamese children affected by Agent Orange. The rejection by the US courts of Vietnamese dioxin victims in 2003 was a critical point in his life. It made him want to bring justice for more than four million AO/dioxin victims.
Since the middle of last year, he has spent 4 -5 hours a day hiking to prepare for his journey. He also had to delay his wedding so he could have money to complete it.
He plans to finish his 1,900 kilometer journey, from Bien Hoa City to Hung Kings' Temple, Phu Tho Province, within 61 days.
Linh arrived in Hue March 3 after 29 days of walking.
"The misery that I'm experiencing during my journey can't compare with the physical and metal pains that the AO/dioxin victims have to bear everyday," he said at a meeting with teachers and students of Nguyen Chi Dieu High School.
Linh has collected more than 12,000 signatures from the people of nine provinces and cities he has passed through.