A 31-year-old woman has helped change the lives of ethnic minorities in Sa Pa with her company, trading medical plants after many years of living in the mountainous area.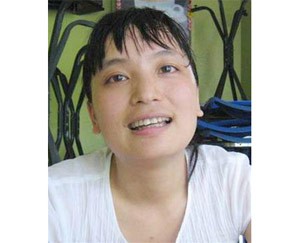 Do Thi Thu Ha

Born into a normal family in Ha Noi, Do Thi Thu Ha graduated from Ha Noi General University majoring in botanical conservation and was employed by a British non-governmental organization.

In 2002, she was assigned as coordinate officer to a project on developing medical plants in Sa Pa sponsored by the New Zealand Agency for International Development and the EU. The project aimed to encourage the conservation of endangered medical herbs and improve the livelihoods of ethnic minorities in the Sa Pa district of Lao Cai province.

After three years' implementation, the project saw some fruitful results. Some overexploited and endangered plants which used to be seen as weeds had become medical plants with high prices.

The most successful thing, according to scientific researchers, is that those plants could help cure common diseases of a developing society like depression or Alzheimer's.

The project also discovered a kind of root containing an anti-cancer active element, which could lead to a turning point for the inhabitants of Sa Pa once verified by researchers. Later, intellectual property rights for the project's products will be granted for the benefits of the Sa Pa ethnic community.

After that, Ha came across the idea of establishing a company to sell the products. In 2005, her idea came true. The company is now busy seeking partners to sell medical plants to Australia and New Zealand. Some foreign pharmaceutical firms asked to buy the company's registered patent for mass production.

Her company's medical plants preservation project was awarded one of five 2007 Global Supporting Entrepreneurs for Environment and Development (SEED) Awards.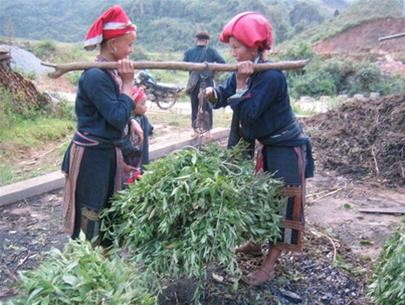 Ethnic minority women bring medical plants home for trading (Photo: TTO)
Bridging the Gap, as the project is called, uses sustainable cultivation of traditional medicinal plants to develop high value-added products, the manufacturing and proceeds of which improve the livelihoods of ethnic minority communities, according to the UN.

Viet Nam's initiative was jointly awarded with four other initiatives from Peru, Ecuador, Brazil and Sierra Leone.

Recipients of the award went through a 10-month review process that included more than 230 applications from some 70 countries worldwide.

Partnership applicants represented nearly 1,100 organizations from the private sector, NGOs, women's and labor groups, public authorities, UN agencies and others.

Over the next 12 months, each of the five SEED Award recipients will receive targeted support services designed to expand their initial ideas and projects into a socially, economically and environmentally sustainable enterprise.

With SEED support, the exports of medical plants in Sa Pa into foreign markets are quite likely in the near future.
Launched in 2004, the SEED Awards biennially recognize, support and encourage the delivery of innovative, local partnership-based solutions to global challenges of environmental stewardship and poverty eradication.
The partnership also serves as models to inspire new entrepreneurs, communities, companies and others to join forces in advancing sustainability.
The SEED Initiative inspires, supports and researches exceptional, entrepreneurial, nascent, multi-stakeholder partnerships for locally-led sustainable development.
Partners in the SEED Initiative are the World Conservation Union (IUCN), the United Nations Environment Program (UNEP), the United Nations Development Program (UNDP), the governments of the United States of America, Germany, the Netherlands, South Africa, and the United Kingdom; and private sector partner Swiss Re.
Related links:
Sapa Medicinal Plant Project Wins 2007 Global SEED Award
2007 SEED Awards