Many overseas Vietnamese (OV) have returned home for the Tet holiday, while others staying in their resident countries also gathered and organized many celebrations for the largest traditional festival.
Because of  the difference in time between the two countries, the Lunar New Year's Eve in Vietnam will be at 6 p.m. in the Czech Republic. People still prepare the New Year 'Eve offering to mark the first moments of New Year's Day, Ms. Minh Phuong in Praha said.
They will cook traditional special dishes, such as dried young bamboo soup, Banh Tet (cylindrical glutinous rice cake), Banh Chung (Vietnamese Square Sticky Rice Cake), Mam Ngu Qua (five-fruit tray) and others to the ancestors.
Many customs are practiced during Vietnamese traditional Tet, such as visiting a person's house on the first day of the New Year, ancestor worship, wishing New Year's greetings, giving lucky money to children and elderly people.
My family moved to Rostock, in the German Democratic Republic for 30 years. Vietnamese traditional Tet holidays always strongly provoke our sense of nostalgia, said Ms. Minh Dan.
To appease the nostalgia and keep the traditional cultures, the Vietnamese community in Germany attends gatherings and organized many activities to celebrate the approaching Lunar New Year, such as music performance, folk and sport games, lion dance, making traditional dishes.
The organization board also offers presents to good students, encourage the young generation to take part in the community's activities and raise their awareness of Vietnamese traditional cultural characteristics.
Meanwhile Tran Linh from Paris remembered about her first Tet in France with a deep nostalgic longing.
On the occasion, many goods for the Tet holiday are selling at Thanh Binh Jeune supermarket and Vietnamese shops in Paris.
Tet atmosphere has covered all the 13th arrondissement of Paris where is home to Paris's principal Asian community, especially Chinese and Vietnamese people. The main streets are decked up with colorful decorations, lanterns and lights. Vietnamese community will have a chance to enjoy firecrackers, kylin and dragon dance, and a traditional costume parade marches through the streets.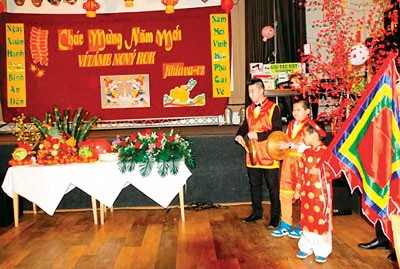 Vietnamese community celebrates Tet in the Czech Republic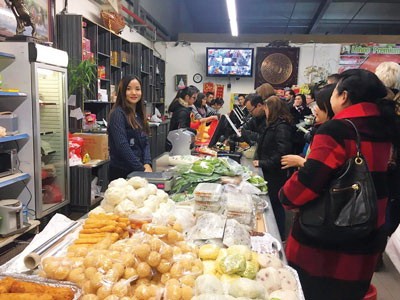 Dong Xuan center in Berlin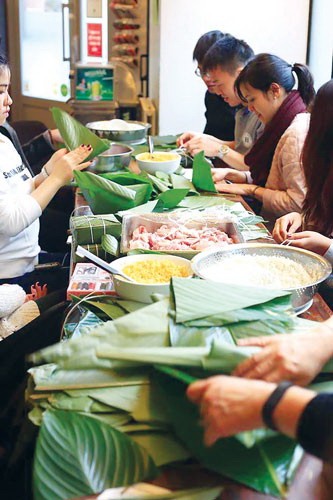 Making Banh chung in Paris