While homesick in a distant land, I saw the warmth of my native people who too miss their roots.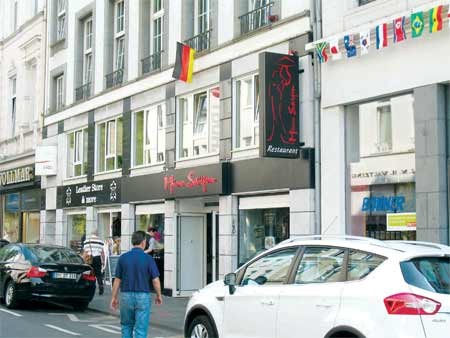 Miss Saigon Restaurant in Bonn, Germany (Photo: Thanh Nien)
After a long flight of over ten hours and transiting between three airports, I finally arrived in Bonn, once the capital of West Germany.
 
Many Vietnamese people had earlier confided in me that they missed speaking Vietnamese and having their favorite food of hot rice with vegetables and fish sauce or a pepper chili while they were overseas. So I had no expectations of meeting a fellow countryman in Bonn, Germany so far from my native Vietnam.
  
I was under the impression that the Vietnamese community lived mainly in the East Berlin area and as Berlin is hundreds of kilometers from Bonn, I didn't expect to find a Vietnamese restaurant in Bonn where I could enjoy a Vietnamese meal and speak my mother tongue.
 
By chance I came across a signboard on the street in the center of the city which read 'Miss Saigon'. It was a relief to find a Vietnamese restaurant!
 
The restaurant served many authentic Vietnamese dishes. The owner, Lan, was adopted by a German couple when she was 13 years old. Though she has lived away from Vietnam for more than 20 years, she spoke very good Vietnamese.
 
The restaurant decor was very authentic, displaying objects like conical straw hats and paintings of Vietnamese girls in 'ao dai'.
 
Later in Linz, a town 50 kilometers away from Bonn, I was lucky to meet a Vietnamese family who invited me to their house for a meal. As I was missing my homeland and also Vietnamese food I accepted their invitation right away.
 
They cooked Vietnamese noodles for me. Their kitchen was full of Vietnamese ingredients like fish sauce and vegetables which were from their own garden. Many of the ingredients were brought to Germany by other Vietnamese people.
 
The husband Phong, said that he and his wife had lived in Germany for over 20 years and had moved house many times, but wherever they went they always tried to buy Vietnamese ingredients to cook Vietnamese food.
In 1990, when it became difficult to find Vietnamese fish sauce in western countries, they learnt to make the sauce at home.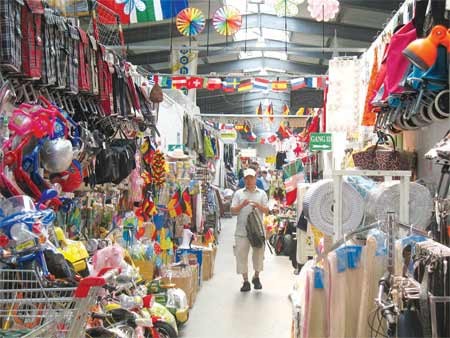 The Vietnamese market Dong Xuan in Berlin (Photo: Thanh Nien)
On a visit to the Vietnamese market Dong Xuan in Berlin, I was invited by many shop owners to their homes for a meal, even though I had never met them before.
 
When they learnt that I was going to the East European countries, many gave me telephone numbers of their friends or relatives in those countries. They suggested I should call their friends or relatives who would be happy to offer me their hospitality.
 
While on a working trip in Cambodia, I got sunstroke and then a fever due to the scorching sun there. In the evening as I wandered around Siem Reap looking for a Vietnamese restaurant, I stopped at one, thinking it to be a Chinese one but it pleasantly turned out to belong to a Vietnamese woman from the southern province of Tra Vinh.
 
Learning I was from Vietnam, she sat beside me while I ate, asking me about Vietnam, even though the restaurant was crowded at that time. She asked her staff to make me ginger tea and buy me some antipyrine medicine for my fever.
 
It surely is a joy to meet with a fellow countryman when one is so far from home. It does help overcome homesickness and fills you with a warm sense of belonging.