Luxury brands have caught on big among the better-off Vietnamese, and shops catering to the well-heeled have sprung up across midtown Ha Noi and Ho Chi Minh City in recent times.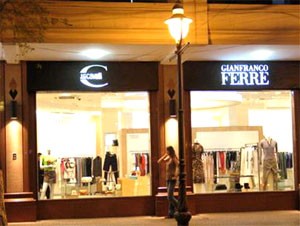 The Signature Boutique on Dong Khoi Street in District 1, Ho Chi Minh City
Louis Vuitton opened its first shop in the capital ten years ago. While window shoppers were in plentiful supply on the sidewalk out front, few people back then had the money to go in and buy something. Times have changed.
 
As more shopping centers are built, particularly in the last few years, more and more boutiques stocking famous brands are coming onto the scene.
 
Shops that sell fashion and household appliances with tags like Louis Vuitton, Bonia, Versace, Gucci, Calorina and Guess are mushrooming in prime locations.
 
Although there's more competition these days, expensive clothes and such are staying that way – expensive, that is. The prices do not come down even a tad.
 
At a boutique on Ha Noi's Ngo Quyen Street, the cheapest Louis Vuitton handbag costs VND1 million (US$62), while at the other end the price tag reaches into the thousands of bucks.
 
Similarly, a casual shirt from Belgium is VND1 million, a pair of Levi's is slightly more at VND1.3 million, and a pair of Adidas shoes is triple that at around US$200.
 
Still, shoppers who often go abroad say that luxury brands are cheaper in Viet Nam than in their original countries, which raises the question of whether the local stuff is always the genuine article.
 
The Phu Thai Group was one of the first to bring luxury brands to Hanoi. The company's boss says the prices can be lower here because the distributors are prepared to take a small hit initially as a marketing ploy.
 
He notes that it's not easy getting a franchise or exclusive distribution rights to a luxury brand. You have to show that you can deliver the goods, so to speak.