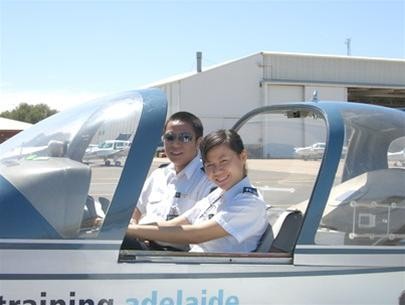 Vo Thanh Hao with her classmate on a Grob 115
Vietnam Airline's Flight Training Center has sponsored 20 of its best students to take a pilot training course at the Adelaide Flight Training Center in Australia. Vo Thanh Hao, the only woman taking part in the course, talked with a reporter after she completed the first 20-hour segment of practical flying time with her instructor.
Reporter: How did you feel during your first flight?
 
Vo Thanh Hao: I took my first flight at 3:15 pm on Dec 19, 2006. I was pretty nervous at the time because if I had not performed well, I wouldn't have been permitted to fly solo.
After flying several rounds, my instructor finally said I could fly the plane myself. I was so happy! After landing to drop my instructor off, I quickly took off again and flew around for 20 minutes.
Could you tell me more about your first flight with your instructor?
I flew five rounds at about 1,000 feet height. My instructor said that my landing needed some work but wasn't bad for the first time around. My landings are a lot better now.
What are the differences between studying to be a pilot in Australia and back at home?
The workload in Australia is much heavier than at the Vietnam Airlines' Flight Training Center back home. We study seven days a week, with the days alternating between theory and actual flying time. Flying practice lasts 90 minutes.
If you could have one wish, what would it be?
After my first solo flight it will take up to five years of studying before I graduate. So I wish that the time will pass a little faster so that I can complete my studies sooner - then I can return home to be a real Vietnamese pilot.