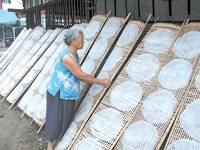 Bamboo grills filled with ground girdle cakes are being put to air
How about the life of the Vietnamese community in the Lao People's Democratic Republic? Is Viet Nam's tradition still preserved and improved by these Vietnamese-Laotians in this country?
Working on traditional food
Around 10 Vietnamese families are doing business in making rice pancakes in a small village located in Laos's south-western  province of Champasak..
Carefully putting each bamboo grill of rice pancakes out in the sun to dry,Nguyen Thi Dam, a 60-year-old Vietnamese woman in Champasak, says, "It's just hard work. The rice, after being washed and soaked, will be ground to make paste. The paste will then be made into thin round rice-paper before being steamed into rice-pancakes. I made them over my deep homesickness. Then my neighbors followed. Gradually, we engaged in making commercial rice pancakes and grew into a Vietnamese typical craft village in Laos." 
Each day, a woman can make as many as 300 rice pancakes to provide for local restaurants and caterers, and can earn a profit of about Kip20,000 (or VND 30,000). Sometimes, her production cannot meet the excessive demands of the restaurants.
When the clock struck , I was invited to enjoy breakfast at a local cafe. There were a lot of roadside cafes standing side by side there, serving Viet Namese traditional dishes.
Ms.Hanh at her food shop
Noodles with seasoned and sauté beef (locally known as Hu Tiu) were also sold here and there. Ms. Bui Thi Hanh, a Vietnamese-Laotian, told me that she could sell around 50 bowls of noodles a day.
It is estimated that as many as 500 Vietnamese-Laotians are living in this region, half of them are women. They conduct business in Viet Namese traditional crafts, which is a way to preserve Vietnamese culture, said a Vietnamese Association official.
Stability and development
Most of Vietnamese-Laotians are not very rich but they can maintain a stable life in Laos, an enclaved country in Southeast Asia.
Another impressive fact in  Champasak is that all Vietnamese-Laotian children there can attend school. Furthermore, the Vietnamese Association plays an active role in the improvement of the Vietnamese community there.
A Vietnamese Club for sport-lovers is another proof of friendship in this country. Vietnamese- Laotians can play table tennis, badminton, volleyball, and even learn Vietnamese in a small class.
In the Club-house, a portrait of Uncle Ho hung on the wall above the slogan "The Socialist Republic of Vietnam, Independence – Freedom – Happiness" can prove deep patriotism of these Vietnamese-born Laotians.
One of the most successful Vietnamese Laotians women in the region is Pham Thi Lan, a mother of four children and manager of Hongxienxomvang mechanical shop, where she employs around 20 Vietnamese laborers and sells automobile parts.
Two of her children are taking university courses financed by the Laotian Government in Viet Nam. She often comes to Viet Nam, her fatherland, to visit them once a year.
Last year, the Vietnamese Association in Champasak did assist Kip18.7 million to agent orange victims, she told reporters.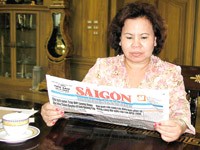 Vietnamese-Laotians need to get more information from native land
Viet Namese culture in Laos
Sailomden coffee shop is the favorite place of Vietnamese in Champasak. It has a special history, told a young man who took reporters to this shop.
At the wake of Laotian Revolution in 1975, the Vietnamese Association planned to establish song and dance ensembles in Vietnamese villages.

A girl, namely Nguyen Thi Minh Hieu, was outstanding when singing Vietnamese songs praising Uncle Ho. Then, a group led by Hieu, the Vietnamese young singer, was established to serve local festivals.
"I opened this coffee shop mainly to serve local fellow-countrymen. Many years later, I expanded the shop to meet the greater demand of clients. Averagely, as many as 120 people come and sing in my cafeteria a day." Hieu said.
Nguyen Thi Hoa, a woman living in Pak Se, told reporters that she can keep abreast of home political events through VTV1, VTV2, VTV3, VTV4 channels, but that the local cultural life is just that limited. She said that they wished more Vietnamese newspapers and documents were available there.
Reportedly, the Vietnamese people there usually just read outdated newspapers collected from the Vietnamese Consulate in Laos, which cannot meet the demand of information-hungers.