Banh Trang (paper rice cake) from Cu Lao May village in the Mekong Delta Province of Vinh Long has been exported to the United States.
Cu Lao May in Tra On District's Luc Si Thanh commune is a hundred-year traditional craft village that is well-known for making Banh Trang.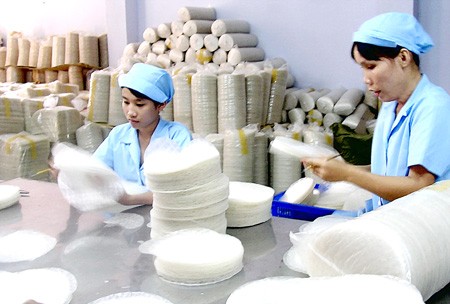 Vietnamese banh trang product has been exported to many countries all over the world - Photo: SGGP
It is a peaceful place with 1,300 hectares of fruits and vegetables, according to chairman of the People's Committtee of the commune, Nguyen Thanh Luan.
Every year, on the peak season of Tet, most of households in the village are in hurry to make Banh Trang to sell in the country and export to the US.
Mrs. Nguyen Thi Nhan, 73, one of the best skilled craftwomen in the village said that she was early introduced the traditional career at the age of 17. Cu Lao May's Banh Trang wins consumers' hearts for its glutinousness, delicious and savory as well as elaborative processing and mixing.
Head of the Cu Lao May's Banh Trang Co-operative, Luong Van Thong said that manufacturing businesses have also exported a small quantity of banh trang to some countries.
At the end of 2014, an American customer made an order of 4,000 cakes. Businesses had to complete his order in a few days and received acclaim for the high quality from customers. The expiration of 90 days provides an easy way to export, he added.
Banh Trang from Cu Lao May has many kinds, such as banh trang ngot (sweet paper rice cake), banh sua (milk paper rice cake), banh dua (coconut paper rice cake), banh cay (spicy paper rice cake) and others.
Many supermarkets have given enterprises in Cu Lao May orders for banh trang.
The Cu Lao May's Banh Trang Co-operative will expand its presence in the US and Asian markets soon.