It is quite normal that people need to know or to set new records, which is the origin of record books, as well as the organizations needed to verify new records. The accuracy of recent records in Vietnam, however, has caused controversy.
Records need accuracy

At the moment, Vietkings (of Vietbooks Creative Complex) is the official organization to receive, verify and publish new records in Vietnam.
Besides looking at new records, Vietkings also inspects those recommended by local administrations, unions and professional associations.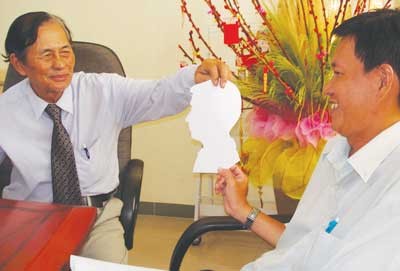 Artist Vu Anh (on the left), the fastest shade-picture scissors cutter in Vietnam, is illustrating his skill to the representative of Vietkings(photo; SGGP)
This process is fairly complicated, on account of so many records to be checked and demand on their precision.
The first step is to acknowledge basic information such as content, action plans and illustrative pictures.
This information is then added into Vietkings' data bank to compare to avoid repetition.
After that, the records are transferred to the Advisor Committee and related offices for comment, as well as displayed on Vietkings' website (www.kyluc.com.vn) for a month for public comment.
To be officially recognized as a national record, it has to earn both professional and public acceptance.
There are still many arguments

Many technical aspects of records are difficult to judge.
For instance, records on over-100-year-old people require birth certificates, but are near impossible due to various historical reasons.
The only way is to depend on indirect sources like current IDs, information from neighbors and relatives, or comparison of their pictures and historical events; hence, relative accuracy.
Copyright is another issue to cause record inspectors headaches.
Vu Ngoc Toan, despite being the record holder of writing most Buddhist songs, was not accepted by the public because he merely wrote new lyrics for existing melodies from folksongs, Chinese songs, Western songs, or even current Vietnamese songs.
This problem arose from Vietkings' lack of law advisors, especially on copyright law to specify the legality of such songs.
Another more serious case were the problems of the biggest chung cake (square rice cake) and day cake (round rice cake) in Vietnam.
They were filled with foam to maintain the desired shape, as explained by the mbaker. However, critics considered it improper since they were made for eating. Both arguments seem quite logical, creating a dilemma for record inspectors.
Greed to succeed

Many people say these actions can be attributed by greed to succeed. Nevertheless, it is absolutely right for anyone to try to earn an achievement by enhancing human limits and simultaneously help the public know more interesting facts of life.
The problem here is that Vietnamese records are almost about human efforts, not ones of nature - a positive means to market our national image.
Realizing this, Le Tran Truong An, CEO of Vietkings, announced that in the near future, the organization is to cooperate with ecological centers and nature reserves to look for nature records, making the establishment of Vietnamese records more balanced.