In the cool early morning in Binh Yen Village, Phuoc Ninh Commune in central Quang Nam Province, local villagers gather eagerly for the second "Chicken Market Day" for the upcoming Tet (lunar New Year) holiday.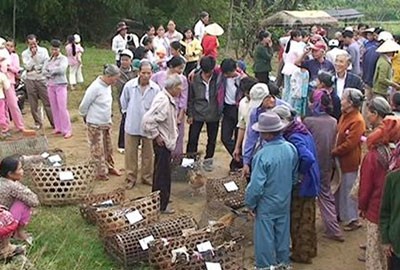 Local residents in Binh Yen Village of central Quang Nam Province gather for the second "Chicken Market Day" hoping to sell their poultry to earn extra money for the Tet holiday. (Photo: SGGP)
The popular event is an initiative of the Phuoc Ninh Commune Veteran Association and the Elderly Association, held near the local Thu Bon River.
Despite launching just last year, the day has quickly become a lively attraction in the normally quiet community.
From the surrounding area, residents bring their chickens to the market, which they have spent much time cultivating.
Nguyen Thi Nga, 70, said she had bred two chickens for five months and hoped to sell them to buy clothes for her grandchild for the upcoming Tet holiday next month.
Many people, including sellers, buyers and visitors come to the high-spirited fair and welcome the traditional, festive atmosphere.
The event is also an opportunity for veterans and residents to introduce and exchange their high-quality chicken breeds as well as to earn a little extra money for the family's Tet holiday.
In the spirit of good relations, there is no overcharging on the day, so business is carried out quickly and efficiently, said Le Thi Hong from Da Nang Province.
She came with her friend to the market-day and said she was very happy with her chicken purchases.
During the fair, the elderly also have a chance to perform traditional folk songs such as hat tuong (Vietnamese opera), giving the event a time-honored feeling of culture and tradition.
Chairman of the Phuoc Ninh Veteran Association Nguyen Van Thang said this year the chicken market-day attracted many members, so the association will expand the market in the future and call for support from more organizations and individuals.
In addition, part of the market proceeds will be used to establish a fund to boost association activities in the future.
The fund will also help association members promote their activities, said Thang.