Lying along the Kien Giang River in Loc Thuy commune, Le Thuy district, Quang Binh province, is a three-roomed house made of jackfruit wood and seated in a spacious green garden. This simple house is called by many local residents as the "General's House".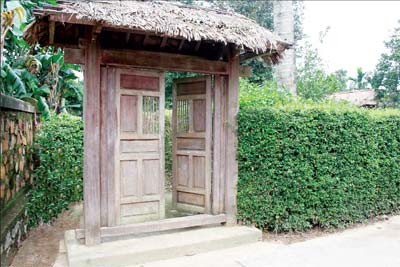 The gateway of the "General's House" (Photo: SGGP) 
It is the house of General Vo Nguyen Giap, 98, a retired Vietnamese general, who was well-known around the world for his striking victory of Dien Bien Phu Battle in 1954.
During the war, most of residents in Le Thuy had to flee bombings that devastated numerous houses in the area. The General's house was no exception.
In 2004, local authorities wanted to help reconstruct the house and use it for the sake of commemoration and worship. Asked about this, General Giap simply said, "You should if you can make it as a duplicate of the old house."
The authorities had hired skilled builders in the area to reconstruct the house, according to a design that was prepared using the memory of some most elderly locals.
Most materials for construction were jackfruit wood, which was used for the old house that was said to have lasted for about 100 years before being destroyed in the war.
Reconstruction was complete in late 2004. When General Giap visited one day, he was very touched to see it as a near replica as the old house.
The new house is also a place for preserve keepsakes of the general and his family.
That night he sat with several old friends on the yard in front of the house, drinking tea and talking under the bright moonlight.
The General spent the night on a bamboo bed covered with a mat made by some artisans of An Xa village, as a gift for him on inauguration of the new house.
Currently, the house daily welcomes hundreds of visitors from across the country to offer incense to deceased relatives of General Giap, such as his father Vo Quang Nghiem and her first wife Nguyen Thi Quang Thai.
Standing in the courtyard is a carambola tree at over 100 years old, under which when the general was a child, he and his friends would learn and play. He loves the tree very much, advising his offspring to take care of it carefully.
Every Tet, the General sends home confectionary, jams and banh chung (a sticky rice cake filled with pork, black pepper, and green bean paste wrapped in banana leaf) as an offering to the deceased and gifts to his relatives and neighbors.