Two Vietnamese architectural works are among the winners of the World Architectural Festival taking place in Singapore this week.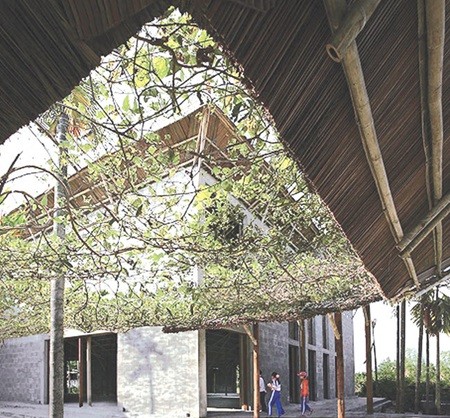 Built to last: The Cam Thanh Community House in Hoi An was among the winners of the 2015 World Architectural Festival.
The first round of winners was announced on Wednesday. They include Saigon House in HCM City, winning in the House category, and the Cam Thanh Community House in Hoi An ancient town, winning in the Civic and Community category.
The Saigon House, designed by A21Studio, is a space dedicated to the old architectural masterpiece of HCM City. It shows the architects' love for HCM City's alleys, which are romantic in both rain and sunshine.
The Cam Thanh Community House, designed by architecture Studio 1+2>3, features bamboo roofs thatched with coconut leaves, which pitch inwards to direct rainwater towards a series of planted courtyards.
Built in the rural Cam Thanh Commune of Hoi An Town, the centre includes three buildings, providing a continuous zoning flow. By using flexible partitions, the space can be modified to adapt to different requirements: meetings, exhibitions and events, and training courses, combined with a library and cafeteria.
Winners were also awarded in the categories of Display, Higher Education and Research, Housing and Mixed Use, as well as Office and Shopping.
The World Architectural Festival is an annual event held to honor the most impressive architectural works around the world. This year, Viet Nam had six works nominated in five categories.
As the world's largest architectural awards programme, the festival received more than 700 entries from architects and designers representing 47 countries.