Their affection for Viet Nam's landscape and people inspired Simon Niggli of Switzerland and Christoph Obmascher of Austria to take an amazing trip. They walked 7,000km from Europe to Asia over 13 months to raise money for underprivileged children in Viet Nam.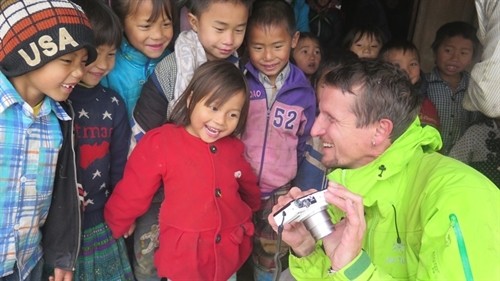 Making friends: Niggli shows pictures to ethnic children in Trạm Tấu District in Yên Bái Province. — Photo courtesy of World Vision.
Departing on January 18 last year from Switzerland and travelling through 19 countries such as China, Nepal, India and Bangladesh, besides Thailand and Việt Nam, they have raised US$21,000, all of which will be given to the World Vision NGO to implement education projects for disadvantaged children in Viet Nam.
Electrical technician Niggli first visited the country 16 years ago, and immediately fell in love with its stunning natural beauty and, especially, the friendliness, helpfulness and hospitality of the local people.
On his return home, he kept thinking about the plight of the ethnic people here, and that urged him to visit Viet Nam again.
His love and worry for Vietnamese people was shared by Obmascher, a friend whom he met while taking a 2,000km walk from Switzerland to Spain.
"We realised how lucky we have been, living in rich countries, having good education and leading comfortable lives, while around the world, there are so many people living in poverty and even without houses. It is our responsibility to help them," Niggli said.

We both chose Việt Nam because we both love this country and its people," Obmascher, who visited Việt Nam 10 years ago, said.
Over the last 15 years, Niggli has been a generous sponsor of poor children in Viet Nam. After his previous trip to the country, he contacted World Vision and started sponsoring a child in Lang Chánh District in the central province of Thanh Hóa.
When the child grew up and left World Vision's sponsorship programme in 2012, he started sponsoring another child, Lê Xuân Khang.
Obmascher also has been sponsoring an ethnic child in Tram Tau District in the northern Yen BaiProvince since 2014.
With the aim of calling more people to "open their hearts to help poor children, especially those in Việt Nam," the two friends came up with the idea of undertaking a walking trip to the land they both love.
Niggli and Obmascher quit their jobs and spent about a year preparing for their trip.
"We had to think about what we really needed to bring along, which will not be too heavy, such as first aid and tablets," Niggli said.
They studied all the walkable roads and the weather conditions that were suitable for walking, and met potential sponsors from Switzerland and Austria before they started their trek.
Walking such a long distance over so many months, they did not encounter any dangerous situations such as the risk of being robbed or of theft. Neither did they get lost.
"Thanks to GPS (Global Position System), we can find exactly where we are," Niggli said
"Walking is a slow way to travel, allowing you to contemplate the surrounding beauty and experience new cultures, so that you can see how the whole world looks. Additionally, it is also good for health and the environment," he continued said.
"We have seen so many beautiful places, met so many friendly people and experienced hospitality and warmth. Many people who are living in such difficult situations have touched our hearts. Our greatest impression is that the poorer the people, the more generous they are. They were always willing to help us with little things such as cooking or inviting us to have coffee," Obmascher said.
All information about their trip has been widely shared on different channels, such as their travel blog (www.thewalkofourlife.com) and Facebook pages. Readers can help by sharing them or directly donate to their bank account number, which is available on these channels.
Walking about 30km per day, the two men travelled through many European countries to reach China by October before the arrival of the harsh cold winter. From China, they took trains and buses to Nepal, India, Bangladesh and Thailand and finally arrived in Viet Nam in late February this year.
The moment when they met the Vietnamese children they have been sponsoring for many years was a really emotional one.

"I saw the child I have been sponsoring for the first time in 14 years and was so glad that he was healthy and had good education. After I gave him my present, he made a nice drawing of me and then we played football together," Niggli said.
To Obmascher too, meeting the child he has been sponsoring for the first time was an unforgettable moment.
"He was nervous and shy at first, but after a while, he started laughing more and we really had a good time," he said, adding that he would keep coming back for more to keep track of his sponsored child.
The money they have been raising during their trips to educational projects in both Tram Tau and Lang Chanh districts has not stopped yet, as according to Simon, they have more two months to go to the Philippines and Russia before returning home and holding a concert with a friend to raise more funds.
The first thing both of them wish to do on their return to Switzerland is to share their great experiences and write a book about their 7,000km journey.
World Vision International is a Christian relief and development organisation, working to improve the quality of life of people, especially children, who are marginalised and living in poverty.
As of today, World Vision is running 40 area development programmes and 16 special projects in 15 provinces across the country.
Niggli and Obmascher's sponsorship is part of World Vision's 15-year area development programme in Viet Nam. So far, about 30,000 sponsors from 14 countries, through World Vision's sponsorship programme, have supported more than 70,000 poor children in a number of areas such as education, nutrition, livelihood and child rights in the country.