The Ho Chi Minh City Department of Culture, Sports and Tourism and the Export Processing and Industrial Zone Authority organized a mobile history museum for workers in companies to bring them closer to events that shaped the country.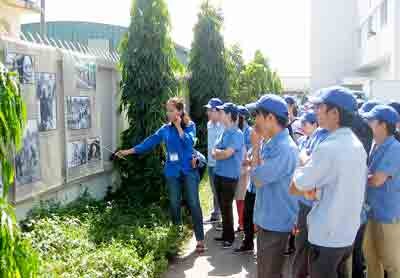 Workers of the Hoshino Company listen to a narration of past war history during their lunch break ( Photo: SGGP)
As soon as the lunch bell rang at noon, workers of the Hoshino Company in the Vinh Loc Industrial Park in Binh Chanh District were beckoned by a young man with a smile, inviting them to follow him to an exhibition in front of the company.

He invited workers to a display section requesting them to spare only 5 minutes from their   break time.
The young man, Ho Minh Thien, then narrated stories of war hero mothers and Vietnamese women who participated in the past war.
The path from the gate to the production section was covered with banners, pictures and documents of the war. Two usherers were waiting to guide workers to tell them about Vietnamese women who lived and worked during war time.
Stories of a mother in Quy Nhon City in the central province of Binh Dinh attempting to bring her children across a river to a bombproof shelter in 1965; an appealing glance of an old woman to an American soldier who wanted to burn her house. On another wall there were pictures of wives who were taken to watch their husbands being shot.
Voice of usherers continued; "Despite deep loss and sorrow, Vietnamese women kept calm so as to look after their children and fight the enemy and produce rice for food consumption."
The delivery of the history lesson only took 5 minutes as Thien promised. Many workers cried after hearing such painful stories. Phan Thi Thu Diem said young people will never forget their history if they attend such talks, and learn that women in war time are very resilient and can endure much loss and suffering.
The program to narrate past history to workers aims at educating workers coming from rural country sides who have never made a tour of any museum in downtown city areas.
Since its launch, the program has come to workers in Linh Trung, Tan Tao and Vietnam-Singapore Industry and Export Processing Zones. War Remnants Museum will deliver special subject talks on workers and enterprise requests; for instance it will tell workers of love in war time, children in war time, memories of war and victims' lives affected by Agent Orange, etc.
Displays will be up for three days in each company. Ho Minh Thien said many workers showed their interest in the program; they lingered after delivery was over or some of them listened many times ask the usherers plentiful questions on various topics related to the war.
Fuji Waru, General Manager of Hoshino Company, said the program told about virtues of Vietnamese women in war time and most of workers in the company are female; so management boards expect them to continue to nurture those good qualities.
Duong Thi Lan, from the War Remnants Museum, said the program has received positive feedback from enterprises, some of who sent a thanks you letter to the organizers.