An official in charge of poverty alleviation in Hiep Thanh Ward, District 12, HCM City, said, "Someone wants to meet you, Phuoc." But it seemed that the man did not hear her call, silently continuing his cleaning up and loading bags of garbage onto his dust-cart.
It was then midday with the sun scorching down. The worker's uniform was soaked with sweat.
Talking to Sai Gon Giai Phong, who had heard of Phuoc, Nguyen Thi Buoi said: "He is an example of war invalids who overcome challenges to make a living in our ward. Losing one leg, he has still not resigned himself to his fate. Over the past ten years, he has worked hard as a cleaner at the market to support his wife and children."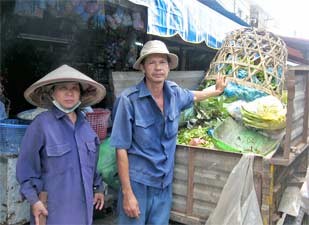 War invalid Van Thanh Phuoc, a sanitation worker, and his wife try their best to overcome poverty through their own strength and determination (Photo: SGGP)
Phuoc finally heard our calls, stopped work and took us to his small home in the third quarter of the ward.
Making us feel welcome in his poorly furnished house, he confided: "After one year of military service in Cambodia, I returned home in Vinh Long Province in 1986 with a war invalid's certificate."
At the time, the war invalid Van Thanh Phuoc was just 22 years old.
Having a disability and poor educational background, Phuoc faced a lot of difficulties in finding a job.
After many failures seeking a job, he decided to leave his native home for Saigon, where he was accepted as a member of a mason team.
During that time of hardship, Phuoc got acquainted with Phuong, who shared the same plight and later became his wife. 
"We now have two children and still live in poverty, but we encourage each other to try to make money to bring up our children," he said.
While talking to us, he removed his artificial leg, exposing the red swollen stump of his amputated leg, as a consequence of working all day long. The stump needs to be cleaned every day to avoid gangrene.
Still, at 11am everyday, he and his wife began their cleaning up at the local market and do not finish before 11pm.
For Tet, they try to work at the market beyond New Year's Eve to make extra money to celebrate and give "lucky money" to their children.
They have also undergone days and nights of working in heavy rains, and there were cases in which both of them fell ill without enough money to buy medicine.  
Phuoc has spent a lot of money they saved on treatment of his amputated leg. But unfortunately, when the injury eased, he discovered he had pulmonary tuberculosis.
Doctors blamed the disease for his frequent contact with refuse containing many toxic substances.
"To treat TB one must avoid heavy work and bad odors, but as a bread-winner, I have no other option but continue this harmful job," Phuoc said.
Asked about their total monthly income, Phuoc said it was just VND1.4 million (US$76). The amount, plus VND1.2 million per month he get as a war invalid allowance, is not enough for them to cover living costs and education fees for their youngest daughter, who is a grade-8 student.
The couple's eldest daughter, who had to give up her studies due to poverty, has now got married.
"My biggest wish now is that we can afford education for our youngest daughter so that she can have a better life in the future, avoiding a life filled with hardship as that we have long suffered."
Phuoc's efforts to make a living and support his family have received admiration and respect from local residents. He is considered a good example of a war invalid who tries to overcome challenges to head toward a better life by his own strength and determination.
Phuoc's ethics make him, through all possible efforts, want to lead a life that is useful for himself and his family, proving that although he is disabled he is not a useless man.  
To help the couple stabilize their living, local authorities are seeking ways to help build a new house for the couple, as the house they are living in is not owned by them but belongs to a relative of his wife.