Every child, disabled or not, is an angel. There are reasons enough that they are forlorn. Founders of the charity program "The small flame" will hold the "Warm Festival – Christmas 2007" to bring joys to disadvantaged children in the city Christmas Eve.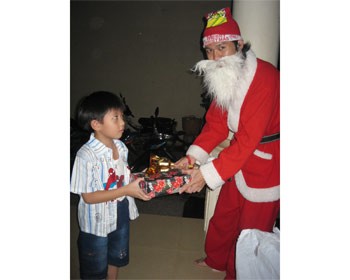 Most children always hope for a visit from Santa for gifts on Christmas Eve.  (Photo:KK)
Most children enjoy a happy, warm Christmas Eve together with their family and friends and hope for a visit from Santa for gifts.
Disadvantaged children and orphans wander the streets. Nobody knows what will happen to them if there are no social or charity funds, pagodas or homes for deprived kids.
The event is sponsored by the Chieu Tam Charity Club, Phuong Nga Company and others and is to be scripted and shot by the Nguyen Dinh Chieu Film Studio and broadcast on Dong Nai Radio and Television. Saigon Transportation Mechanical Corporation (Samco) will take the children to the festival for free.
Organizers, including young kindly bloggers, OpenMind Company, Giac Ngo Newspaper, Phap Gioi Pagoda and the International Volunteer Club (IVC), expect to hold an overnight parade to give clothes and blankets to street children on Christmas Eve.
Warm Festival – Christmas 2007 is to take place at the Ky Quang Pagoda 2, 154/4A Le Hoang Phai Street, Ward 17, Go Vap District, from 4.30 p.m to 7.30 p.m, December 21.
People can contact with the bloggers "Khung long an chocote", "Meo u", "Hanh bo thi" and "Lao an may" to make a cash contribution or in-kind donation to the program, or contact any of these benefactors:
• Open Mind Company: 601/8/11, Cach Mang Thang Tam Street, Ward 15, District 10. Phone number: 08. 8656425.
• Phap Gioi Pagoda: 151/162, Luy Ban Bich Street, Tan Thoi Hoa Ward, Tan Phu District. Phone number: 08. 8586287.
• Giac Ngo Newspaper: 85 Nguyen Dinh Chieu Street, District 3. Phone number: 08. 8222120 and 08. 8292388 – Fax: 84.8. 8231112.