There is a man who expertly weaves silk to make clothes for a spectrum of people, from the average person on the street to heads of state and business leaders. This man is Ho Viet Ly, director of Toan Thinh Silk Weaving Co. Ltd, based in Ho Chi Minh City.
From the dream of an orphan...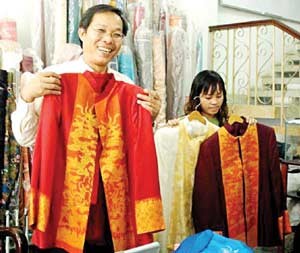 Ly with the finished silk clothes for ASEM 5(Photo:SGGP)
Born in 1954 in a family of four children with parents who grew mulberry and bred silkworm, little Ly lost his mother when he was only four.

Growing up in Duy Xuyen commune, Dien Ban district, Quang Nam province, famous for its mulberry and silkworms, as a child he realized the commune had no knowledge of weaving the silk they grew and had a dream of becoming a weaver of splendid silk cloth.

Despite his dream, as a young adult Mr. Ly worked as a teacher and social worker. However, he never stopped thinking about his dream. While visiting Ho Chi Minh City, he accidentally got acquainted with a girl from the same hometown who was a working as a weaver at Bay Hien village.

Their shared love of their hometown soon flourished into love for each other. In 1980, they were married. From then on, the couple wove normal types of cloth. Mr. Ly fondly remembers this period but "at that time, due to the simple machines, Bay Hien village only made textiles like polyester, materials for making mosquito-nets, raw cotton to sell in markets, not to export. When the country went into the innovation period, this old approach was not appropriate and in need of a breakthrough."

At this time, his childhood dream was reignited. Realizing that the weaving village could not improve in its current form, he discussed the problem with his wife, "if we continue like this, we cannot hold out for too long. We have to weave silk to better our career." Thinking that his wife would object, as weaving silk was extremely hard, he was quite surprised when his wife supported his idea.

"We must learn this skill at any cost," she replied, "although it is difficult, it will be a great success." Her encouragement gave him the strength to fulfill his dream.

Such delicate pieces of silk cloth require a meticulous process, a fine aesthetic spirit, good technology, as well as a strong determination to weave. Thinking "all or nothing", Ly came to a village in La Khe in Ha Dong District, Ha Noi, where the famous Ha Đong silk is woven. There he learnt the traditional technique of weaving silk.
Feeling that he needed to add something of his own, he visited China, Korea and France to gain knowledge of a better technique. He said, "When going to other countries, I could only learn by observing as no one was willing to share their secret."

After a long time of traveling, he came back home and invested in modern machinery to weave silk. He developed a new method of weaving so as to maintain the tradition of the country and to take advantage of modern techniques. Many people asked him why he did not hire engineers. He said, "It is easy to hire engineers or experts.
However, my success would be copied by others. I would not be able to keep an exclusive position in the market." After days and nights tossing and turning, he finally created his first silk cloth.

Holding this first piece of cloth he was overjoyed and as happy as welcoming his first-born child.
Mr. Ly became the first silk weaver of Ho Chi Minh City. The material and the pattern of 'Lý silk' possess their own beauty and are quite different from Ha Đong silk or Lam Dong silk.
With this quality product, Ho Viet Ly upgraded his small business into Toan Thinh Silk Weaving Co. Ltd., manufacturing silk and exporting to Japan, France, US, Thailand, Laos, Cambodia and Korea.

… to the rise of 'Ly silk'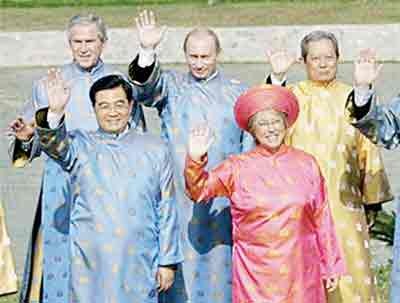 APEC leaders wearing Ly silk at the 14th APEC meeting (Photo:SGGP)
At the 5th Asia-Europe Meeting (ASEM 5) in 2004 and the 14th Asia-Pacific Economic Cooperation (APEC) in 2006 in Vietnam, designer Minh Hạnh chose Ly silk to make clothes for the 39 leaders of ASEM 5 and 21 economic leaders of APEC.
Seeing those leaders looking opulent in such Vietnamese clothes, both Vietnamese and international guests felt greatly admired.

After APEC, the silk clothes were given to the leaders as souvenirs. From then on, the maker and Vietnamese have taken much pride from the quality of Ly silk.

Asked why his silk was chosen to make clothes for the Kings (the informal way of addressing economic leaders) Mr. Ly said "In Vietnam, when talking about dressing beautifully, people think of silk. As the old saying goes 'a man is handsome thanks to his silk clothes' ('fine feathers make fine birds').
Moreover, silk represents quality and endures well compared to other textiles."
In order for Ly silk to be chosen for the events, Mr. Ly spent 85 days with his weaving machine to create clothes with seven different colors and a special lotus pattern. Only when he finished all the garments did he breathe a sigh of relief.
He said, "At last I have fulfilled my childhood dream. Now I only hope that Vietnamese silk will become well known so that people all over the world will choose it to wear. I feel truly proud that Vietnamese people are able to turn the impossible into the possible!"