Instead of grasping opportunities for good jobs in foreign companies, seven years ago, a group of young architects in Hanoi decided to choose a more challenging path. Using advanced 3D technology, they put their common efforts into making images of the capital's architectural heritage built in the 19th century French architectural style.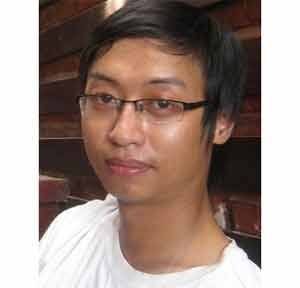 Dinh Viet Phuong
Old sidewalks with cracks covered with moss and houses with ancient roofs silently hiding under large, green canopies of trees are Dinh Viet Phuong's constant dreams about a Hanoi of more than sixty years ago. The young architect feels sad when witnessing more and more sights of the scenic city being damaged by modern encroachment.

Such an obsession prodded Phuong and nine of his colleagues to join hands to conduct a daring project, in which they produced virtual pictures for the ancient city of Hanoi some 100 years before by making use of advanced 3D technology.

That was in 2002 when the 3D Hanoi Group was found. Among them, some were university graduates, the others were still sitting in lecture halls of universities.

The project started with no funds, but the love for Hanoi was a powerful motivation for all the members of the group, said Phuong.

He explained, "It's probably a common habit that people always ask for funds when doing something. If they don't have money, they won't have the courage to do it. I and my colleagues at the time viewed things in a different way. We thought that success wouldn't come to us unless we went to it. If we dared to do something and did it successfully, everything would come after all."

Phuong recalled, "To earn our daily bread, we all had to go to work like other people. The only period of time we could work for the project was at night. After 9pm, we began to sit at our desks and concentrated hard on our work until 4am the following day."

At the outset, the members of the group were confused because none of them had an idea about what Hanoi actually looked exactly like some 100 years ago. The reference materials they had did not seem to be very helpful for their work because, "many of them turned out to be unreliable. The more we based designs on them, the more we were misled," said Phuong.

Each of them finally had no choice but to rummage around libraries or search on the Internet for more information and then checked the facts obtained with historians. It took them four years to finish the first virtual pictures of the ancient capital.

To exhibit their work, the group had to spend their own money on hiring a gallery. After the exhibition, they pooled money to open a small coffee shop on Ma May Street so that "we could hang our virtual paintings on the walls," said Phuong.

Sitting in the café, drinkers can live in a nostalgic atmosphere, surrounded by lamp-posts, street cafés and old spotted walls of ancient Hanoi. They can even close their eyes and imagine what it must have been like on a street in the capital on a winter's afternoon in 1946.

That is the scene of soldiers in kaki walking mightily on a street. Along both sides of the street was chaos, created by bombardments and artillery, while red flags were flying above the roofs of undamaged houses.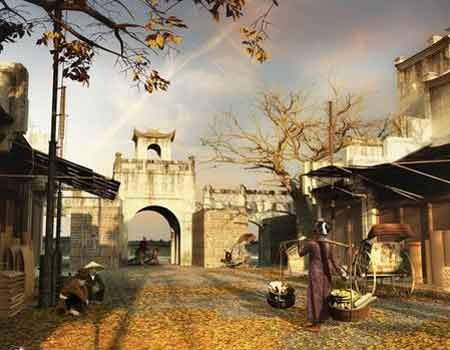 Hang Chieu Street, a virtual picture by 3D Hanoi Group
After the exhibition, many members of the group went to study abroad. Phuong kept on collecting reference materials for the project and transformed information from the old materials into street corners and red-brick roofs for his virtual pictures.

At present, there are only five members in the group because "Some have already quit the project, while others got back from their overseas study and resumed the virtual work," explained Phuong.

In early 2009, with the intention of building an online museum about Hanoi, the 3D Hanoi Group worked with Ashui.com, an architecture and building website, to carry out another project to make the virtual images of ancient streets and urban architectural heritage under French colonialism in Hanoi by making use of advanced 3D techniques.

Architects of the two sides are working day and night to make each detail of each building or villa appear sharp and clear in a three-dimensional space, based on related technical parameters left by the French.

The virtual pictures not merely demonstrate sights and architecture, but also living and trading styles of Hanoians a century ago.

Le Viet Ha, founder of Ashui.com said, "Through the depiction of the beauty of ancient Hanoi via virtual pictures, we wish to appeal to people to treasure and preserve what Hanoi has now."