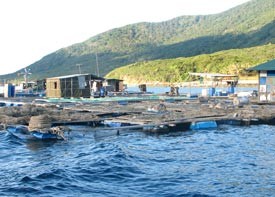 A fishing village in Vung Tau (Photo: VH)
They are young businessmen in the aquaculture and fisheries sectors, aging 22 to 30. Their small businesses have partly solved the unemployment problem in the locality.

Everyone in Long So Village, Vung Tau City has long been familiar with young billionaire Huynh Nhat Duy, 28.
After finishing high school, Duy began his own business. Starting in failure with oysters and fish due to the lack of experience, he still had plenty of ambition for the next project.
Up to VND80 million of loan was funded to his project. He began to learn from many short-term courses, and with biter experience from the previous failure, his work got fruitful improvements.
In 2005, up to one ton of fish and 69 ton of oysters were caught, which gave him around VND1.3 billion in takings, including VND500 million of net profit. And now, the massive expansion gives him the average income of VND300 million a year.
Nguyen Kim Len, 26, the youngest in a 7 children family, is another example of young successful businesspersons.
She is currently an owner of a big squid fishing boat and a fishing net workshop. After each one-month trip, she and her sailors make a huge profit of around VND25 million, which leads to the annual income of up to VND250 million.
Thanks to her small enterprise, over 50 workers have been employed with the monthly wage of nearly VND1 million.
Nguyen Kim Len, a 5-year Communist Party member, is also an active girl in social activities and music performances in her locality.
Another girl, Tran Le Cam Tu, 24, is a shining example of what a young scientist should be. In 2003, a senior student of the Can Tho University convincingly won the best record with a graduate thesis on anabas.
"At that time, people and farmers focus too much on catfish to export to external markets. In order to diversify the fish and keep the economic value of the exported items, I chose anabas as the main theme in my essay," she said.
Huynh Nhat Duy, Nguyen Kim Len, Tran Le Cam Tu and many other young businessmen famous in fisheries sector were honored at the award meeting in Can Tho City on May 19, jointly held by the Central Youth Union and the Ministry of Fisheries.