Some students who come from many provinces around Ho Chi Minh City joined in the annual Green summer Campaign, hosted by Ho Chi Minh City's Committee of Youth Union. They became members of the Communist Party in these campaigns, a pride of Ho Chi Minh City Youth. Particularly, nearly 150 students joined the Communist Party in 2005.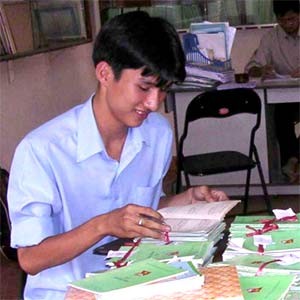 Le Hoang Minh        (Photo:Ngoc Phuong)
Students and teachers in Gifted High School Le Hong Phong often talked about 18 year old Le Hoang Minh, a young Communist Party member.
Minh is not only a self-starter in all union and social activities but also an excellent student in this famous high school. He has successfully matriculated in University of Technology and University of Medicines.
"Becoming a member of Communist Party, I feel so happy. I believe this is a great chance to further improve myself and learn from others,  gradually making my dreams come true".
Another boy who participated in Green summer campaign three times in succession is Nguyen Truong Son. "I was so eager to teach children in rural villages which gave me chances to become a good and helpful citizen."
Having worked for a company, he still returned to this social campaign for one month. In Green summer campaign 2005, Son became member of Communist Party. "That is an unforgettable moment in my life", he shared.
Son is currently a good student of HCMC Economic University.
One more elite student in this Economic University is also a young boy named Tran Si Quy. He has joined in this Campaign for 6 years consecutively. At the first time, he was so nervous and scared of this movement. Gradually, Quy became one of enthusiastic volunteers in each summer campaigns. He has been to many provinces including Ben Tre, Tra Vinh and Dak Lak…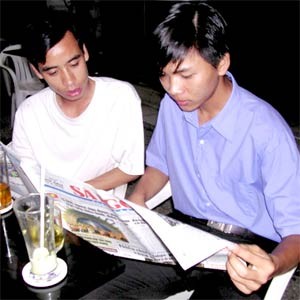 Tran Sy Quy (left) and Nguyen Truong Son
"We are young and strong so we must take part in social activities. In these movements, we will grow up and improve ourselves." he said.