A poor young man, who had to leave university due to financial burden, has successfully set up a cricket-raising career on a farm he named Thien An, which attracts visitors and provides crickets for restaurants in the Central Highlands province of Lam Dong.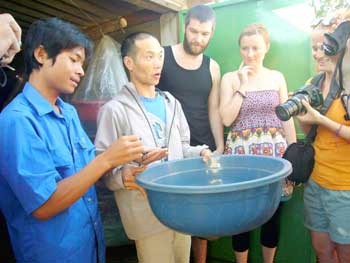 Foreign tourists take photograph of a cricket basin at Thien An cricket farm (Photo: SGGP)
Nguyen Quang Huy, 28, followed his family to Lam Dong Province from the northern province of Bac Giang in 2001. The new life in the highlands was not easy, as Huy had to leave university to assist his family.
The thought of raising crickets came to Huy after he visited a cricket farm in Cu Chi District, Ho Chi Minh City. He then began studying the process of breeding crickets and came to Cu Chi to learn more.
After becoming familiar with the process, Huy wrote a proposal on cricket-raising development and asked Lam Ha District authorities to finance it. The district Bank for Social Policies finally lent him VND150 million (US$8,000) to open a cricket farm.
With the initial capital, Huy built a 300 square meter farm with over 200 cricket basins in Nam Ban Commune, 50 kilometers from Dalat City.
Now established for more than a year, the farm obtains over 200 trays of cricket eggs a month, each tray bringing him VND50,000 and 25 kilograms of crickets, which he sells to restaurants in Dalat City.
After calculating costs, the 200 cricket basins yield him over VND70 million (US$3,700) in net profit, Huy said.
The Thien An cricket farm has been chosen as a tourist destination by Dalat City travel companies. The farm receives from five to seven delegations of visitors each day, who come to learn about the phases of breeding crickets and to enjoy cricket-based foods such as cricket fired with citronella and chili and fried power-dip crickets.
Huy's foremost specialty is young crickets. The farm usually freezes these crickets, which sell for 25 percent more than what mature crickets fetch.