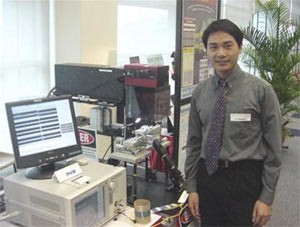 Dang Dinh Tuan
Seven years ago, Dang Dinh Tuan, 17, who possesses a large collection of medals from many big national competitions, used to shock people with his dream of pursuing law career to become a prime minister." Now, he is still planning for his dream.
His prime minister dream
Dang Dinh Tuan, 24, who dreams of becoming Viet Nam's prime minister, has just been offered MBA scholarships in two well-known universities of the US and Sweden.
Talking about his life, he says, "I studied to become an engineer, but, I would love to become a businessman, too. Every job, every agency or even every nation must be governed with a vision of a businessman and an analytical mind of an engineer. The world is moving on and I see a bright future for our nation."
Dang Dinh Tuan was invited to work for the Philips Electronics Singapore Pte., Ltd. six months before his graduation from Singapore's Nanyang Technology University. One of the most important posts was offered to him, project quality manager, which has rarely appointed to a fresh graduate.
His customer information service operation saved the company millions of dollar, making him one of the potential member in the company. He is also the founder of the department researching customer demands before the new product was completed.
The Straits Times in 2005 featured him as a shining example for the most successful employee of Philips' recruitment. A short time later, Tuan was promoted to assistant of vice general director at the age of 24.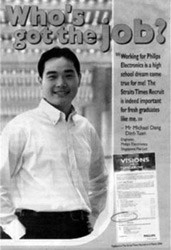 Dang Dinh Tuan featured on the Straits Times
His schooldays
His big collection of gold medals and many prestigious prizes in the nation, plus a strong ambition helps him believe in what he said. When studying in Le Hong Phong gifted high school, Tuan gathered 120 his classmates in a science club. He was also honored as one of the young talent of the city.
In that year's matriculation exam, he won a scholarship at Singapore's Nanyang Technological University (NTU) allthough he was second at the HCMC University of Economics' admissions test. "A future leader must be good at management and creation of wealth," he said.
At this institution, Tuan was selected to go to the research program for undergraduates. Doctor M.K. Rao of the NTU in a letter recommending him into the master course said, "Tuan is among the top 5 percent of students I have met for over 20 years".