At a meeting of relatives of martyrs whose tombs have not been found, standing out from the crowd of old, time-worn faces was a 22 year old who has not known war.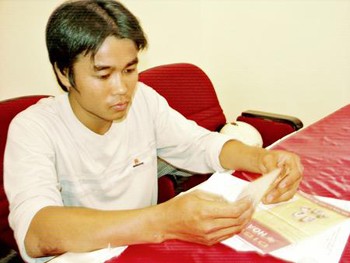 Le Tri Tuan (Photo: SGGP)
Le Tri Tuan has just graduated from the Hanoi University of Industry, but does not yet think about finding a job. He takes advantage of the free time to travel to the South and find his grandfather's tomb.
Tuan's grandmother and parents were very unhappy because they have not found his grandfather's tomb.
Understanding his family's feelings on the issue, Tuan began to search for information about his grandfather's tomb when he was a high school student.
Whenever he came across a website, organization or an individual to help find martyrs' tombs, he immediately registered his grandfather's information with a hope to get clues.
Talking about a recent trip when his family came to the South to find his grandfather's tomb, Tuan said that a death notice had said that his grandfather's ashes were buried at Trai Bi Cemetery in the southern province of Tay Ninh.
However, when they arrived, they found that it was the tomb of another martyr.
Day by day, his grandmother becomes weaker but her wish to find her husband's tomb is still not closer to success.
Tuan loves his grandmother, so much so, he volunteered to depart for the South to find his grandfather's tomb.
Coming to Ho Chi Minh City, Tuan firstly stayed at a cousins' room in Thu Duc District for few days. He then applied to become a worker at a wood factory and rent another room.
Every month, he receives a salary of VND2 million which he spends on accommodation and traveling to surrounding provinces to find information about his grandfather.
"I will try to find my grandfather's comrades who are still alive to find clues about his tomb," Tuan said.