Although young overseas Vietnamese who are the second filial generation were not born in Vietnam, they still remembered to their homeland and towards their original point.


Vietnamese character preservation


19 years- old overseas Vietnamese named Nguyen Dinh Nguyen said: "I was born and grew up in the capital city of Russia where was difficult for me to access the news and information about Vietnam. I was not learnt about Vietnam history. Thus, i just know my original point as well as relatives from books, newspaper and my parents".
He shared that his family was deeply attached to their native soil which had spread to him. Although he might not know much about Vietnamese culture, history, tradition and he has just visited his homeland for several times, he had a special sentiment to his native country. That's why he keeps his Vietnamese nationality.


Craving for sour water spinach and being eager for every traditional Tet holiday as he could follow his parents to visit some families in Russia to see them how to grab the square glutinous rice cake and enjoy the Tet holiday.


After Nguyen have finished studying in school, he practiced Vietnamese language at home with his parents. He has studied in Canada for several years and almost all of his best friends are Vietnamese overseas students who have taught him Vietnamese language.


Another young overseas Vietnamese is Bui Trinh Thien Truc who is living in Frankfurt city, Germany with her parents and young brother. Truc often speaks German language with his young brother. As this reason, her parents have suggested them to speak Vietnamese as much as possible.
Mrs Trinh Bich Uyen who is Truc's mother explains that to maintain Vietnamese language and to keep their roots and characters are very hard but those are the way to communicate and integrate into the local communities. Her confidential is motivating to her children. Because Truc have been well-educated by her mom during 19 years, Truc can speak Vietnamese fluently. Besides that, she knows how to feature Vietnamese cuisine, how to worship her ancestors and often goes to the pagoda with Vietnamese communities in the city of Frankfurt.
Having a great passion of love to their roots


Recently, Thien Truc has returned Vietnam from 4 to 6 weeks in every two years during the summer time. During the trip in Ha Noi last time, Truc voluntarily taught English to children in the city while she was joining in a course of learning how to sing Vietnamese songs by Meritorious Artist Kim Tien. She eagerly shared that she could sing a song named "Me hien yeu dau" (Beloved mother). When she got back to Germany, she performed this song to the Vietnamese community in Germany. Her performance was highly complimented by her clear and correct pronunciation.
This summer vacation, she stayed in Ho Chi Minh City to take a course in Thanh Bui School (specialized center in training singer and composer). As scheduled, Truc is going to return to Germany in September to enter the university (major in economics). After a gap year with many activities of exchanges with students of several countries, the values that she has achieved are Vietnamese songs and unforgettable memories about the S-shaped country. A young girl stressed that after her graduation, she would travel to many countries to transform her desire of singing Vietnamese songs.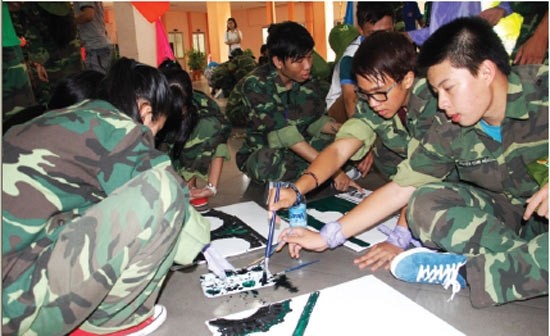 Young overseas students join in a course of training while they stay in Vietnam.
By joining in the 20-day journey with around 160 youths, overseas students along the South-East Asia countries, Tran Thi Hoai Anh, a Vietnamese –Czech, shared that the journey toured from the North, the Centre and the South of Vietnam helped her collect the stories about indomitable and enjoy many beautiful tourist landscape attractions in the country.
They have spent in Vietnam for three weeks like a big family. On the other sides of the journey, youth and overseas students explored the new things like aware of the current difficulties in Vietnam. Although Hoai Anh and the young overseas Vietnamese were not born in Vietnam, they had a great desire of contributing in developing the country.


The most impressive thing for Nguyen Dinh Nguyen is the practical experience in Vinh Moc Tunnel of Quang Tri province and Cu Chi Tunnel of Ho Chi Minh City.
Nguyen shared that being inside the tunnels helped him discover about the lives here during the wartime. He and the young Vietnamese admired and appreciated the elders by their enormous tolerance and sacrifice as well as the nation traditional undauntedness in nation's struggle. Furthermore, Nguyen felt very proud of the country and he would love to share Vietnam history and culture with international friends.


The activities of young people like Nguyen, Truc, Hoai Anh and other young generations living abroad have helped them connect and have a strong attachment between overseas Vietnamese.
Yin Sokleng (19 years old, Vietnamese-Cambodian)


Although Yin Sokleng was born in Cambodia, she has been taught Vietnamese language from her parents. Moreover, she has known about Vietnamese people's magnanimous history in buiding and protecting the country. As this reason, she always has a dream of visiting Vietnam once and her desire came true in July, 2015. This was the first time she had paid a visit to Vietnam. Vietnamese commanders told her about the historic battles in this journey. Furthermore, she had experienced as a farmer and had done some volunteering jobs, etc. She is proud to be a Vietnamese.


Tane Tania (19 years old, Vietnamese national resident in Ukraine)


Her family has been living in Ukraine for 20 years but they always have a sense toward our original point: Vietnam. Her family has many social works each year in Vietnam. She is currently studying in medical major to become a good doctor in the near future. She would like to take care of Vietnamese health and contribute to develop the country's medicine sector.


Peter Nano (22 years old, a Vietnamese-Czech)


I will return Vietnam every summer vacation to teach English to advantaged students and help them find better jobs in the upcoming times.