A group of young people with various nationalities have arrived in Vietnam to do voluntary deeds in the Mekong delta provinces.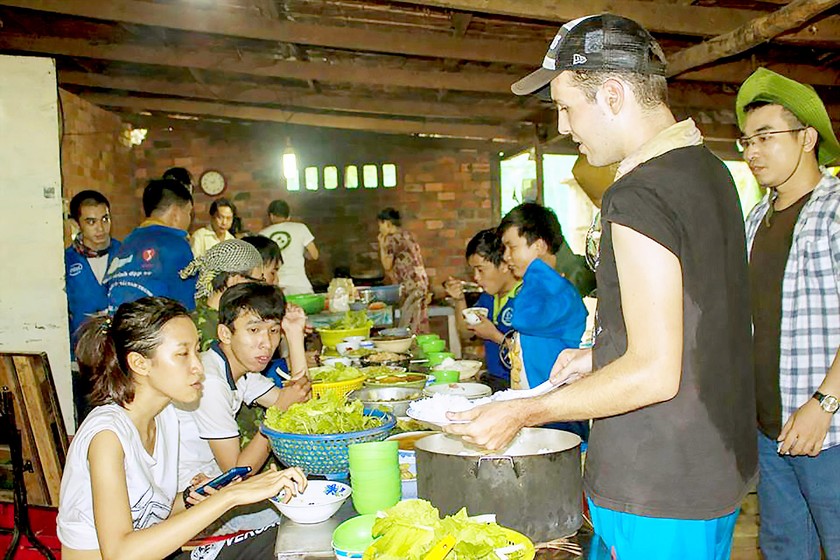 Young volunteers cook charity meals for poor reisndents in Tam Nong District of Dong Thap Province (Photo: SGGP)
The voluntary program of international and Vietnamese young people started from July 12 to August 15. Its activities focused on children, senior people, disabled residents and low-income families in provinces Long An, Dong Thap, An Giang, Kien Giang, Hau Giang, Vinh Long, Tra Vinh, and Ben Tre in the Mekong delta region.

Vietnamese young people from Ho Chi Minh City Communist Youth Union joined this program to perform social activities to help locals in the Mekong delta. Despite of facing some difficulties in transportation, daily activities, eating habits, volunteers are all interested in voluntary deeds in the Southeast Asian nation.
A French volunteer, Saint Amans JB, said that he has come to many Asian countries and European nations but nowhere is as wonderful as in Vietnam since young people love doing voluntary deeds and locals are friendly and hospitable. 21 year old Loshitha Bandara from Sri Lanka said this is the first time he travels to Vietnam, he has ever not done voluntary deeds such as paving roads with stones, teaching English to children or planting trees but this time, in Vietnam he feels very exicited.

In Tam Nong District of Dong Thap Province, volunteers have built two charity houses for poor households in Tan Cong Sinh Commune and Tram Chim Town as well as planted trees and paving stones for 10 kilometer road while in Tan Thanh Commune in Moc Hoa District of Long An Province, they taught English to children, presented gifts to low-income families as well as popularized information of medicine and social skills.

Vietnamese young volunteers are also interested in the program as they can understand more lifestyle and culture of other nations as well as practice English with international friends, said Do Kim Yen , sophomore of University of Social Sciences and Humanities.