Lovers of time-honored Vietnamese music come every weekend to Hanoi's Dong Xuan Market to hear Nguyen Thi Phuong perform a traditional form of singing known as Hat Xam.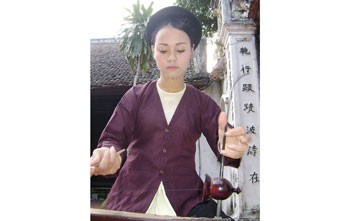 Young singer Nguyen Thi Phuong
The singer, 25, from the northern province of Quang Ninh, was not always a performer, however. Phuong graduated from the Quang Ninh Construction and Industry College and says her family originally opposed her desire to try Hat Xam.
Her parents objected when Phuong told them she wanted to leave her job to study the ancient music with People's Artist Xuan Hoach and musician Thao Giang at the Vietnam Music Art Development Center in Hanoi.
They worried that Phuong would be all alone in the capital and urged her to stay at home. The decision was hard for the young singer as moving to the city would also mean giving up a relationship with her boyfriend.
But despite the obstacles, Phuong says she felt powerfully drawn to the art form. "I really have a great passion for Hat Xam and I would do anything for it. I still think that I did the right thing and I have to pursue singing. I will commit all my life to the art," she added.
Phuong then began learning a Quan ho love duet native to Bac Ninh Province. Soon she was booking performances at music venues, restaurants, hotels and festivals.
After learning of the Vietnam Music Art Development Center established by Ph.D. Minh Khang and musician Thao Giang, Phuong auditioned and was admitted.
"It is not easy to study Hat Xam," says Phuong. "The singer must show her feelings as well as modulate and pronounce clearly. Musician Thao Giang wanted me to become a young pioneer studying Hat Xam to preserve and foster a love for folk music among the community," she adds.


Hat Xam is believed to have originated during the Tran Dynasty 700 years ago, and was performed after the rice harvest to ward off misfortune. It was also a popular way for visually impaired people to earn a living in Ninh Binh, Nam Dinh, Hai Duong, Bac Giang, Ha Tay, Hung Yen and Hanoi before and after the 1945 August Revolution.   

The art eventually died out in the 1960s. Two decades later, researchers and devoted artists tried but failed to revitalize the art form. Then in 2005, the Vietnamese Music Development Center brought Hat Xam back to the public eye and the art form has gradually made a comeback.  

Hat Xam comprises a group of singers and musicians who play instruments such as drums, castanets, the Nhi/Co fiddle and the monochord. (Source:VOV)