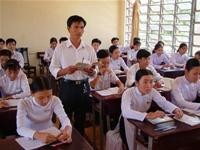 Le Thanh Hai and his students
They are young and enthusiastic. They came to remote places in Ben Tre province to help local people and provide knowledge in despite of low salary.
When studying in Nha Trang Aquaculture University, Le Thi Hong dreamed about a sightseeing tour in the Mekong Delta area of southern Viet Nam.
Hong joined the Green Summer Caimpaign in 2003, and Ben Tre was her first destination.
After one month working and living with local people in Thanh Phu district, one of the poorest regions in Ben Tre Province, she decided to settle there.
"The place is in need of young and professional people," she said.
Another student born in Dak Lak shared the same thought with Hong. He came here just for a simple reason. "The place needs us", he said.
Graduating from Ho Chi Minh City Economic University and already getting a job in a city's Department, Nguyen Thanh Liem wished to devote his energy in remote areas. When the volunteer campaign finished, Liem decided that he should continue his work here.
Ben Tre has received many young volunteers from other places, said Cao Tan Khong, Chairman of Ben Tre People's Committee, especially for the education service.
Doan Thi Diem High School, found in 2002, has only 13 teachers for 14 classes. In the early days, there were two newly graduated students from Can Tho University, Le Hoang Hai and Vo Thanh Nhan, who had the passion to share knowledge in isolated regions.
Having been in the Green Summer Campaign, Hai loves to go to far away locality, and that is the reason why he chose Ben Tre as his first working place. "I have never thought that I would leave this place," said Nhan, an English teacher in this high school.
After three years working and living in the region, those young people, Hai , Nhan, Hong, determines  to become residents of Ben Tre Province despite low incomes.
People in the province are very friendly and provide good care to others, said Hai, a biology teacher in Doan Thi Diem High School.
Le Thi Hong, after one year working for Ben Tre Aquaculture Department, has been appointed to Thanh Phu District Aquaculture Office. Despite low incomes and uncomfortable working environment, she promises to remain in the locality though her family has many times asked her to come back to Thanh Hoa Province.
Nguyen Thanh Liem is currently taking a video camera course in preparation for a youth television program of the locality. "What a dream! How can I leave this place while the working environment is very comfortable?" affirmed Liem.
The life and conditions in actuality are not very favorable, but nobody has ever said that they would leave Ben Tre Province for the strenuous work.