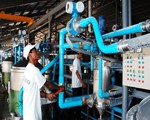 young workers is operating machinery (Photo: Thai Bang)
Fifty young workers who are living in Phu Tuc town-Krongpa province have got new job at the Cashew-nut processing workshop (Long Son Joint stock Co.). This is the first job which they have had after so many years.
Getting career
Ksor Im and her friends say: "On the first day, we were still like a fish out of water. We even did not image how to run such big machines".
As a secondary school graduate, Ksor Im is seemed as a highly educated girl in Ia Jun highland village. Before working with Long Son, she only went to kaingin from early morning to evening. Thus, she applied at once after getting the information that Long Son Company was recruiting staff.
There are dozens of young workers like Ja Jun working at Long Son manufactory. They all are Jorais. H'Ploan stays in Dha village, Ia Mlad commune, says: "I studied for the new skill for 2 months. I am determined to do my best because if I return home, my parents will keep me at home for work on the kaingin. They do not know that I will earn much money when I am a worker".
H'Ploan now is a team leader. Her team consists of workers of whom there are 30 girls from other villages, such as: Nu, Roon living ten of kilometers away from the factory.
"At first, I earned 300,000 VND a month, for I was not yet used to the new job. Now, my salary is getting higher. Sometimes I get 700,000 VND. If someone works as well as H'Ploan, the salary will be as much as 1 million VND". H'Pah, says.
Industrialization
Mr. Nguyen Minh Cuong, Manager of the Cashew-nut Processing Workshop, says: "There are totally 117 workers, including 50% Jorai ethnic youths from Kroângpa
suburban district. To change the economic structure industry –agriculture, we are
going to invest two more Agricultural Product Workshops to help more than 200 minority laborers to get new jobs. With this target, we expect to increase agricultural Product value and to speed up the industrialization of agricultural production in the West highland (Tay Nguyen).
Besides the Phu Tuc Factory, many other factories will be set up in this area, including: Processing enterprises of corn; Cashew; Tobacco …invested by businesses from Hochiminh City.
Along with building the Industrial Park, Gia Lai Province is investing in construction of a Vocational Education Centre to supply labor to the factories in the area. This is a chance for thousands of young laborers who are living in highland villages to get access to the new industrial environment…