A 27-year-old Vietnamese woman who beat over 30 rivals to seize a coveted franchising deal last April with US-based Dale Carnegie Training, a famed training school for businesspersons, has revealed the secret to her success.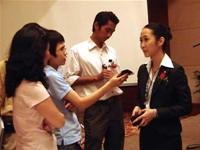 Khanh Linh answers the press during the opening ceromoney of Dale Carnegie in Vietnam
Graduating from the Ho Chi Minh City University of Social Sciences and Humanities, Nguyen Trinh Khanh Linh later took a master course at UK's London Metropolitan University, and has been managing director of IMAC since 2005.
Despite the strict demands and pressures of the post, she nevertheless took on an even more cumbersome role when she became chief representative of Dale Carnegie Training and director of the Dac Nhan Tam Entrepreneurs School Joint Stock Company in Viet Nam.
Rigorous journey
After two months of short-listing, Dale Carnegie selected two companies for a paid visit to New York to deliver a one–hour presentation on how to expand its business in Viet Nam.
"Just imagine, the Dale top management sits there, and listens to your presentation on business strategy for Dale in Vietnam in the next 7 years…on marketing, management, finance, sales, and so on. These chances come only once in a lifetime," she recalled.
Prior to the US trip, a friend had inspired her by telling her to "prove her passion and beliefs," which she said had served to maneuver her through the screening and final judgment.
In her presentation, she pledged to train 15,000-20,000 businesspersons in Viet Nam.
For her, the target market in the Southeast Asian country should be small and medium-sized enterprises, which have a lot of potential.
She expects 80 percent of her initial customers in Viet Nam to come from abroad. "But I see signs Vietnamese firms are starting to take interest," she added.
Now managing two companies at the same time, Linh said she has to accept losing one relation or two to concentrate on others. For IMAC, she meets only once a week, mostly to lay out strategies and motivate staff.
But according to her, she puts her heart in Dale Carnegie.
As director of a school teaching self-improvement and business ethics, Linh said the students need leadership skills, interpersonal skills, confidence, and a positive attitude towards life to succeed—especially young entrepreneurs.
The most important elements of success are sufficient knowledge, experience, zeal, and the ability to inspire others, Linh said.
Founded in 1912, Dale Carnegie Training has been providing courses worldwide focusing on giving people in business the opportunity to sharpen their skills and improve their performance in order to build positive, steady, and profitable results.
It has over 200 offices, 2,800 training experts and over 1,000 customized programs all over the world.