Local authorities in the mountainous district of A Luoi in the central province of Thua Thien Hue are of late doing their utmost to restore the 'Zeng' weaving craft of minority groups in the area, so as to   preserve a traditional craft as well as to help the local community find a means to earn their livelihood.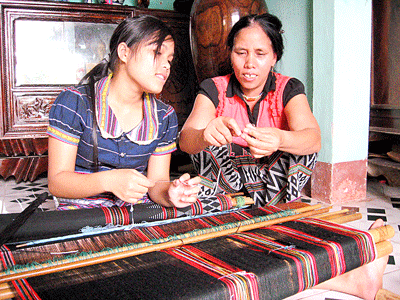 Mai Thi Hop teaching 'Zeng' weaving to a young girl (Photo: SGGP)
Around the A Luoi region, stories abound of a wonderful woman named Mai Thi Hop of the Ta Oi minority group, who did her best to revitalise the traditional 'Zeng' weaving craft in her community.
'Zeng' cloth is a sophisticated marriage of colours in a wealth of motifs, using a black background with colored stripes and beads, woven into various artistic geometric patterns.
Having learnt the art of weaving 'Zeng' cloth from her mother since a child, to make clothes for her family or village people, Hop was not content that such a beautiful craft was being wasted and could be lost in the future.
She was determined to bring back to life this traditional craft form, despite encountering various problems, from explaining its usefulness to the young, to persuading Ta Oi elders into giving lessons to people from other ethnic groups, which actually goes against Ta Oi's customs and rules.
By explaining that 'Zeng' weaving may disappear if no one attempted to save it and that it could help fight against poverty, she at last received unanimous approval from the village elders.
In 2004, Hop opened a small workshop in A Luoi Town for people of Co Tu, Pa Hi, Pa Ko, and Ta Oi ethnic groups to learn 'Zeng' weaving and earn a living by selling their own products. From only four people in the beginning, her workshop now has around 40 workers with an average income of VND1.2 to 1.5 million (US$58 to $72) per month, which is quite high in the area.
Mai Thi Tang from A Tin Hamlet of A Dot Commune in A Luoi District, a two-year weaver of 'Zeng' fabric, said that at first she did not known the craft, but watching many households in her hamlet generating such a high income, she and her mother turned to the craft.
Other ethnic groups like Co Tu, Pa Ko, Van Kieu, Pa Hi also came to learn and helped expand 'Zeng' weaving craft to neighboring areas. According to Ho Thi Loan, a Co Tu living in A Phu Vinh Commune, because of this craft her family now can earn an extra sum of VND1.5 to 2 million ($72 to 96) per month, making their financial state more stable.
At present, A Luoi District has three large-scale workshops for 'Zeng' weaving craft in Phu Vinh, A Dot Communes and A Luoi Town. It is the high quality and creativity that help A Luoi's 'Zeng' cloth becoming much sought-after, said Hop.
In fact, 'Zeng' cloth is usually made with colorful patterns of legendary stories, plus it is quite fashionable and durable, hence the favourite of both residents as well as tourists, domestic and foreign alike.
Ho Van Ngoan, Head of A Luoi's Office of Culture and Information, said that local authorities always encourage ethnic groups to preserve and develop this weaving craft. They have already approved of a fund to support training and expansion of 'Zeng' weaving, with a pattern preservation project also lined up in the near future.