Typhoon Mindulle has left grave damage for provinces from Thanh Hoa to Da Nang with at least 10 people dead and dozens others injured after making landfall in Vietnam northern central region on Tuesday.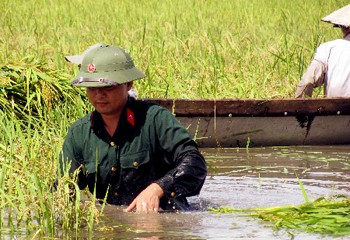 An army soldier helps farmers to harvest flooded rice in Thua Thien-Hue Province (Photo: SGGP)
The storm's fury shattered 295 homes, left over 32,000 others roofless, dipped 32 boats and eroded many roads and irrigations works.
In agricultural sector, about 36,000 hectares of rice have been inundated with nearly 25 percent of the area in danger of complete loss. An estimated 11,000 areas of corn, peanut and other crops have also been damaged.
Nghe An Province has suffered most damage with six people dead, two missing and 43 injured.
The province People's Committee has assisted each of mourning family with VND4 million while each of the injuries receives VND1 million. Relevant authorities have focused on recovery work to help residents soon stabilize their lives.
Ha Tinh Province is the second worst-hit locality with three people dead and five seriously wounded.
Moreover, 16,000 hectares of summer-autumn rice crop and 1,000 hectares of vegetables were flooded. The storm also caused damage to 105 hectares of forestry plants with several being uprooted. Several road and power links have been paralyzed.
Families have received VND4.5 million from the province authorities for each of their dead relatives.
Local authorities and residents have resiliently cleaned up homes, schools and roads as well as saved flooded rice fields.
In Thua Thien-Hue Province, a 25 year old man has been dead as he was swept away by floodwaters in Huong Tra District Wednesday.
Hundreds of soldiers and young volunteers have raced to help farmers harvest over 3,000 of hectares of rice inundated in low-lying areas of Huong Tra District. They have also assisted local residents repair and rebuilt homes in Phu Vang and Quang Dien Districts.

In Da Nang City, 10 missing fishermen were taken to the mainland in the happiness of their relatives and local people, Huynh Van Thang, deputy director of the Department of Agriculture and Rural Development told Sai Gon Giai Phong on the phone last night.
The 10 men were found on Wednesday night after 50 hours drifting at sea in hungry and thirsty condition.
The storm-triggered heavy rains have led rivers in spate in provinces from Thanh Hoa to Thua Thien-Hue. The floodwater levels on rivers between Quang Binh and Thua Thien-Hue have reached their peaks and begun receding.
In the meantime, the floodwaters on rivers from Thanh Hoa to Ha Tinh are forecast to continue surging.
According to the National Hydro Meteorological Forecasting Center, the third storm of the year or Mindulle has weakened into a low pressure zone lying centered in the border area between Vietnam and Lao.
The weather in northern and central regions has been cloudy with continual rains.