More than 100 crocodiles escaped from a farm in Dinh Binh Commune of Ca Mau City in the southernmost province of Ca Mau, and by October 13 residents had only managed to capture 47 crocodiles while desperately searching for the remaining reptiles.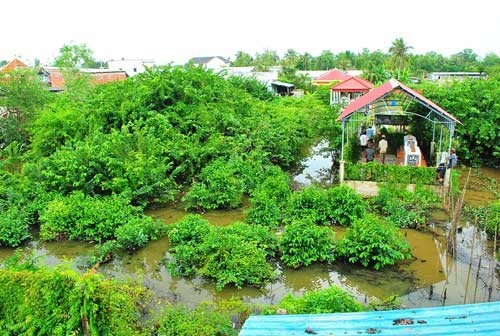 A corner of Quoc Viet Company's farm
Heavy rainfall the previous night had collapsed the fence surrounding the crocodile farm, owned by Ngo Van Nga of the Quoc Viet Aquatic Export and Processing Company.
According to initial information, more than 100 crocodiles weighing from 40kg to 80kg escaped the farm, but it is still not known if any managed to crawl into the rivers or canals that crisscross Ca Mau Province.
For the whole day on October 13, local people and government staff were accompanied by the Quoc Viet Aquatic Export and Processing Company employees to search for the crocodiles that were running loose, and succeeded in returning 47 of the animals back to the farm.
Police, military and forest management staff were working with the company owner to determine the actual number of crocodiles that could have escaped from their fenced-in space, and issue warnings to local residents.
Related agencies asked the company to hire people specializing in hunting down crocodiles, who used tranquilizing guns to shoot at the animals to seize them. The Quoc Viet Farm has 580 crocodiles and some of them weigh more than 100 kilograms. As Ca Mau Province is crisscrossed with a network of canals and rivers, there is prevailing fear among local residents at the moment.
The local government and related agencies are however continuing to search and capture all the escaped crocodiles.