Rescue workers have found the bodies of 12 of the 13 people killed in a landslide last week in the central province of Quang Nam.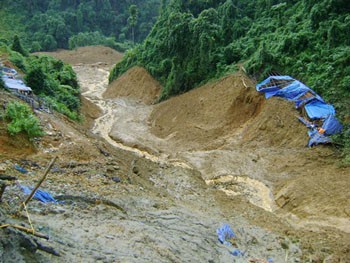 A view of the landslide in Quang Nam Province on November 5 that killed 13 people (Photo: SGGP)
The body of Truong Van Dung of Phu Ninh District was found on November 8 near the Nuoc Vin River.
 
The landslide, which was triggered off in Bac Tra My District on November 5 by Typhoon Mirinae, also left one person badly injured.
Rescue workers had earlier discovered the bodies of three victims belonging to the province and eight others from Thanh Hoa Province, aged mostly between 15 and 29.
The body of Vo Minh Vuong, 15, of Phu Ninh has yet to be found.
Do Thanh Van, chairman of the Bac Tra My District People's Committee, said the rescue teams have had to search for the victims with hoes, shovels, and crowbars because bulldozers are unable to reach the mountainous spot.
Related article:
Mountain landslide kills 13