Twelve people died and eight others were seriously injured when a coach plunged off a cliff after colliding with a motorbike near the border gate between Vietnam's central highland province of Kon Tum and Attapeu Province in Laos on Thursday evening, March 1.
On the morning of March 2, Nguyen Huu Hai, Vice Chairman of the People's Committee of the central highland province of Kon Tum, visited the victims in hospital in Attapeu Province in Laos, who were later moved to Kon Tum general hospital.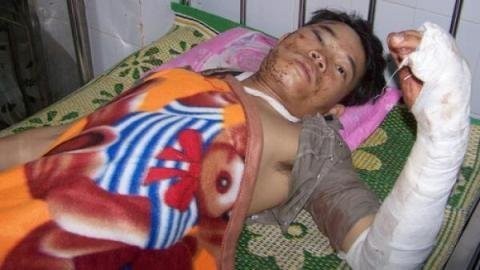 A victim in the accident (photo Vietnamnet).
The motorist who collided with the coach is a Lao citizen and was seriously injured and is being treated in the Attapeu hospital.
The 16-seater coach was, at the time of the accident, carrying 20 people and was enroute to Attapeu Province in Laos from Ngoc Hoi District of Kon Tum Province. The accident occurred about 50km from the Bo Y international border gate between Vietnam and Laos.
The coach driver, 34-year-old Ho Huu Binh, the driver's assistant and ten passengers were among the dead.
The injured passengers are being treated at the Kon Tum general hospital.
The dead victims families have been granted VND3 million as compensation and the injured received VND2 million each.
The accident is under investigation by the Kon Tum police.