Vietnam's National Hydro Metrological Forecast Center said a tropical low pressure zone that formed off Luzon Island, the Philippines, would continue and could intensify into a storm in the days ahead.
The low pressure was generating winds of up to 61 kilometers per hour near the eye and gusts beyond Force 7.
It was located near 14.2 degrees north and 127.4 degrees east, approximately 330 kilometers east of the Philippines.
Weather forecasters said it would move northwest in the 24 next hours and could intensify into a storm.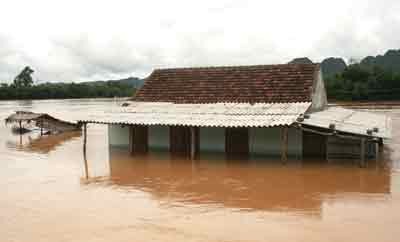 A house in Tuyen Hoa District, Quang Binh Province, submerged in floodwater (Photo: SGGP)
On September 26, the storm was located approximately 170 kilometers east of Luzon Island, which will experience rough seas with winds gusting to category 10-11 Levels.
A ship owned by 35 year old fisherman, Ho Thuong, in Quynh Luu District, in the central province of Nghe An, was sunk by large waves while the boat was on her way back to land to seek shelter on September 25.
Three vessels nearby rescued eight fishermen but were unable to save 28 year old Tran Cao Nguyen, who drowned.
Nghe An Province also reported the deaths of three people killed in floods. One died when his boat sank and two were swept away, including 51 year man Lu Van Dinh and a 16 year old boy. 
Nghi Loc District said 16 fishing boats were sunk by floods.
Four residents in Ky Anh District, central province of Ha Tinh, were saved after being caught by flash floods while they were on their way to market. However, a fifth person, Nguyen Thi Dung, has not been found since she was swept away in the flood.
Torrential rains submerged some parts of Bo Trach District, in the central province of Quang Binh.
Highway 1A was under a meter of water, traffic on the road had slowed to a crawl due to the relentless rainfall.
Over 5,999 houses along rivers Kien Giang, Nhat Le and Gianh, in the central province of Quang Binh, were isolated by floodwaters, which have risen more than one meter preventing thousand of students from going to school.
Two people in the province, Tran Ngoc Hien and a four-year old child, Pham Hong Nam, drowned.


The bodies of three victims, who drowned after a tourist ship sank in Ha Long Bay, in the coal mining province of Quang Ninh, were found on September 25. Two other people are missing.

The incident occurred on the night of September 24.

The ship, QN-5298, was carrying over 20 passengers and crew on a tour of Ha Long Bay, however, a storm swamped the ship. The remaining passengers and crew were brought back to land safely.

Officials have released information about the dead and missing victims. They include a Vietnamese tour guide, a Vietnamese stewardess and three overseas tourists, two from the UK and one from France.

Search and rescue efforts continue.