The Advisory Council for Administrative Formality Reforms has petitioned for 133 administrative procedures in the areas of land, construction, tariffs, customs, import-export, labor, banking and education to be simplified.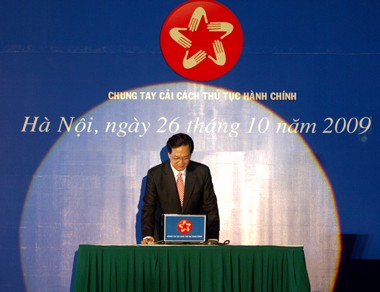 PM Nguyễn Tấn Dũng presses the button to kick start the national database on administrative procedures, Hà Nội, October 26, 2009 (Photo: VGP)
The council held a forum on November 20 to discuss the issue.
Following an October 26 directive by Prime Minister Nguyen Tan Dung to all ministries, agencies and local authorities to review and streamline at least 30 percent of administrative procedures, as stipulated by the Project on Administrative Procedures Simplification in the Fields of State Management in 2009 (Project 30), the Prime Minister's working group on administrative formalities assistance was set up.
The group is responsible for identifying problems and directing agencies to deal with convoluted formalities that cause difficulties for enterprises in economic sectors.
It also supervises and pressures government officials to resolve problems associated with administrative formalities, said Minister Nguyễn Xuân Phúc, chairman of the Office of Government, and the Advisory Council for Administrative Formality Reforms.
The group has now reviewed several procedures and outlined those which can be streamlined. For instance, tax refunds will be issued within seven days instead of the previous 15.
Based on the findings of the Advisory Council for Administrative Formality Reforms and local and administrative officers, the group will submit an official administrative procedures simplification plan to the Government chief, which will be publicized next month.