The National Road-Railway Traffic Police Department has reported that during the first four days of Tet Lunar New Year, 167 road accidents across the country killed 137 people and injured 148 others.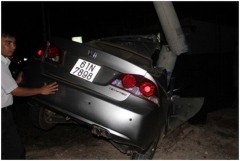 An accident in Binh Duong Province killing the driver on January 24 (Photo: Tuoi Tre)
The department reported that on an average, 42 accidents occurred each day, killing 34 during the first four days of the Lunar New Year. However, the figures are lower than last year. The number of traffic accidents this year have decreased by 33 cases, the number of fatalities down by 10 people and the number of injuries down by 53 people, said the department.
To ensure traffic safety and public order during this phase, police nationwide have mobilized all available human resources to patrol residential and commercial areas and report any signs of dubious activities and take action against any criminal offense cases.

In addition, the Road and Railway Traffic Police Department has instructed police to mobilise task forces and other means to implement methods to prevent accidents and reduce traffic jams, particularly in Hanoi and Ho Chi Minh City.

The department has warned that traffic will get much more congested from January 28, when people will flock to major cities to resume work. To ensure traffic safety, the department has instructed local police forces to step up inspections to prevent violations, foresee congestions and penalise traffic violations.

In other news, on January 26, Quang Ngai General Hospital received nearly 380 patients, of which 250 cases were of traffic accidents during the first four days of Lunar New Year. On January 25 alone the hospital received 100 cases of traffic accidents, increasing six times compared to normal days.

On the same day, Dinh La Thang, Minister of Transport and Nguyen Hoang Hiep, vice chairman of the National Traffic Safety Committee visited doctors in Viet Duc Hospital in Hanoi and evaluated the traffic accident situation during Tet.

Dr. Nguyen Tien Quyet, director of Viet Duc Hospital said that the hospital received an average 400 patients, of which nearly 200 received emergency treatment for injuries from road accidents.

100 out of 187 patients who received emergency treatment for injuries from road accidents, were not wearing safety helmets, said Dr. Quyet.

Minister Thang said that this year saw a significant drop in the number of road accidents, but the numbers are still high.

Police and related departments need to strengthen patrolling, inspecting and handling of traffic and transport violation cases, especially on city roads and waterways, he added.