Police forces uncovered 9,214 drug trafficking cases and arrested 13,873 traffickers in the first six months this year, reported Deputy Minister of Public Security, Lieutenant-General, Le Quy Vuong in Hanoi on July 22.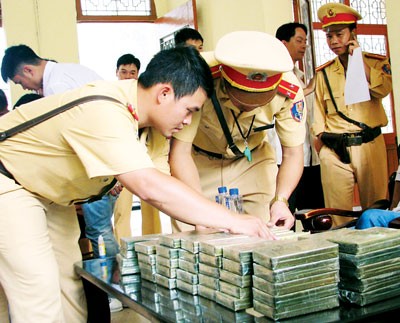 Traffic police seize tens of heroin cakes being transported from Son La Province to the border area in Lang Son Province (Photo: SGGP)
He was speaking at a national online conference, chaired by Deputy Prime Minister Nguyen Xuan Phuc, of the National Steering Committee for Crime Fighting and Prevention.
Police officials seized 246,039 kilogram heroin; 103,462 kilogram synthetic drugs & 302,048 drug tablets; and 656,893 kilogram marijuana, said Mr. Vuong.

Drug trafficking and transport in the border area between Vietnam and Laos were very complicated. Criminals were armed and willing to fight against the police when being spotted, added Vuong.
On July 19, while besieging an armed gang who was transporting the banned substance, the police faced fierce opposition killing one official and injuring another.
In the end, two of the criminals were annihilated, three were arrested and 108 heroin cakes, guns and other exhibits were seized, he concluded.
Deputy Director of HCMC Police Department Phan Anh Minh said that they had found some subjects transporting drug in large volume from the north, showing increasing demand in the city.