Delegates at the 13th APEC Small and Medium Enterprise (SME) two-day Ministerial Meeting which ended on September 29 in Ha Noi discussed existing and proposed initiatives to promote SMEs, and adopted the "Hanoi Declaration on SMEs Competitiveness for Trade and Investment".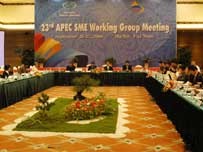 The 13th APEC Small and Medium Enterprise Ministerial Meeting
In the Declaration, delegates agreed that APEC needs to place more emphasis on strengthening SMEs' competitiveness in trade and investment by developing specific measures to improve competitiveness, innovation and entrepreneurship.
One of the most important parts of the Declaration is that SME group should play an active role in encouraging APEC members to share their business experience.  
 
The group, as a coordinator, will strengthen the cooperation with APEC related forums and publicize measures and rules to SME and micro-enterprises to create a favorite business condition for commercial and investment activities.
Ministerial Meeting began its plenary meeting in Ha Noi on September 28 with the participation of 250 delegates from APEC member economies.

Link:
APEC Economies Urged to Create Favorable Conditions for Micro Enterprises