Le Thanh Hai, deputy head of the national weather bureau said 15 persons were either dead or missing while hundreds were reported injured when 'Haima' typhoon hit many parts of Vietnam in the last two days.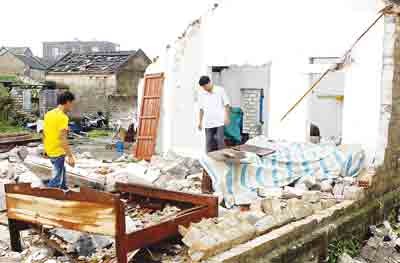 Vu Van Thanh's house in Hai Phong destroyed (Photo: SGGP)
The typhoon has devastated many areas of Northern Vietnam. Reports coming in from the northern port of Hai Phong, 100 km southeast of Hanoi, claimed seven deaths in the districts of Thuy Nguyen, An Duong, Tien Lang and An Lao. More than 200 people in district Thuy Nguyen were injured, 16 houses were completely flattened, rooftops of 1,021 houses and 12 schools blew away and 15 electric poles were flattened on streets.
Contrary to earlier predictions that the storm was expected to lash the Vietnam-China border area, tropical storm 'Haima' changed direction towards Thai Binh province yesterday. The strongest winds in the eye of the storm topped level 9 in Bach Long Vi island in Hai Phong province and Co To island in Quang Ninh province on the morning of June 24.

Hai stated that the storm has weakened into a tropical depression before sweeping the northern province of Thai Binh yesterday with force of level 6-7. Heavy rains are expected to continue for the next few days.
 
The province People's Committee compensated VND10 million (US$476) to families whose relatives died in the typhoon, VND3 million to the seriously injured and VND1 million to the less injured residents.
Landslides in district Vi Xuyen in the northern mountainous province of Ha Giang killed an iron miner while he was seeking shelter from the rain.
The governments of Quang Ninh, Thai Binh, Hai Phong and Nam Dinh have ordered their people to harvest their rice crops immediately to avoid further loss. Hai Phong has harvested 22,000 hectares of rice and more than 1,400 ships, boats and 3,850 fishermen have sought shelter in safe places in Hai Phong and Quang Ninh.
Heavy rain has submerged many streets in Hanoi, creating rush hour traffic congestion.  Hanoi is preparing to evacuate people from low lying regions to higher areas to avoid landslides. 2,000 pumps have been deployed to protect crops and vegetables.
Many sea embankments in Hai Phong province were washed away by strong currents and authorities in Ha Long City of Quang Ninh struggled to protect an apartment block from landslides.


Vietnam Airlines (VNA) had to cancel 6 flights yesterday, including VN1670 to Da Nang-Hai Phong, VN1671 to Hai Phong-Da Nang, VN1188 to HCM City-Hai Phong, VN1189 to Hai Phong-HCM City, VN1713 to Hanoi-Vinh and VN1712 to Vinh – Hanoi.